Solon Ramsdale
Writ of Attachment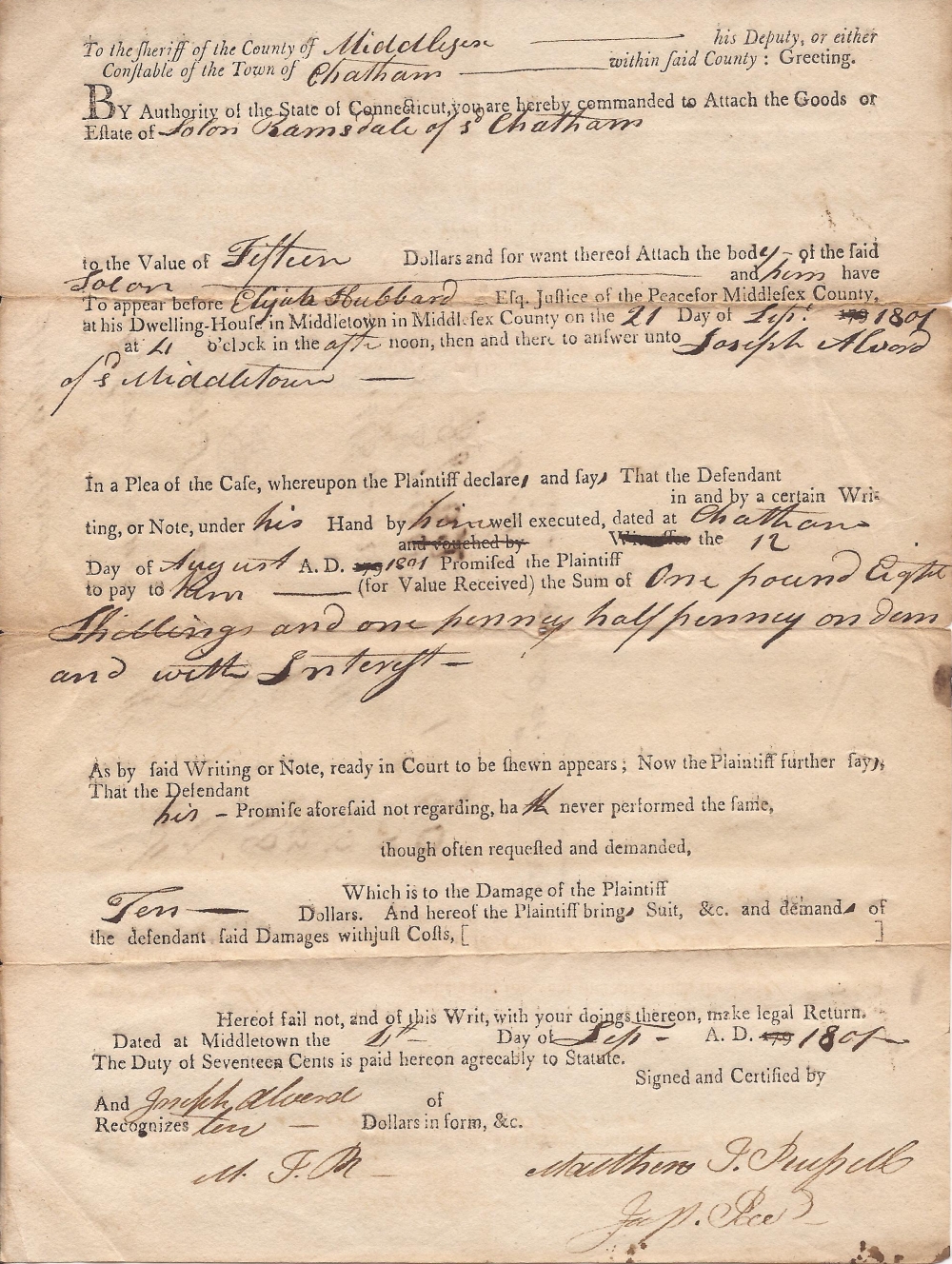 To the Sheriff of the County of Middlesex his Deputy, or either Constable of the Town of Chatham within said County: Greeting.
By Authority of the State of Connecticut you are hereby commanded to Attach the Goods or Estate of Solon Ramsdale of said Chatham to the value of Fifteen Dollars and for want thereof attach the body of the said Solon and him have to appear before Elijah Hubbard Esquire Justice of the Peace for Middlesex County at his dwelling house in Middletown in Middlesex County on the 21 day of September 179 1801 at 4 o'clock in the afternoon, then and there to answer unto Joseph Alvord of said Middletown.
In a plea of the Case, whereupon the Plaintiff declare, and say, that the Defendant in and by a certain Writing, or note, under his hand by him well executed, dated at Chatham and vouched by Winesses the 12 day of August A.D. 179 1801 promised the Plaintiff to pay to him (for value received) the sum of One Pound Eight Shillings and one Penny Half Penny on demand with Interest.
As by said Writing or Note, ready in Court to be shewn appears; Now the Plaintiff further says that the Defendant his promise aforesaid not regarding, hath never performed the same, though often requested and demanded, which is to the Damage of the Plaintiff Ten Dollars. And hereof the Plaintiff brings suit, &c. and demands of the Defendant said Damages with just costs [].
Hereof fail not, and of this Writ, with your doings thereon, make legal Return.
Dated at Middletown the 4th Day of September A.D. 179 1801.
The Duty of Seventeen Cents is paid hereon agreeably to Statute.
Signed and Certified by
And Joseph Alvord of
Recognises ten Dollars in form, &c
Matthew T. Russell, Justice of the Peace, (2 other signatures)
Writ of Attachment - Reverse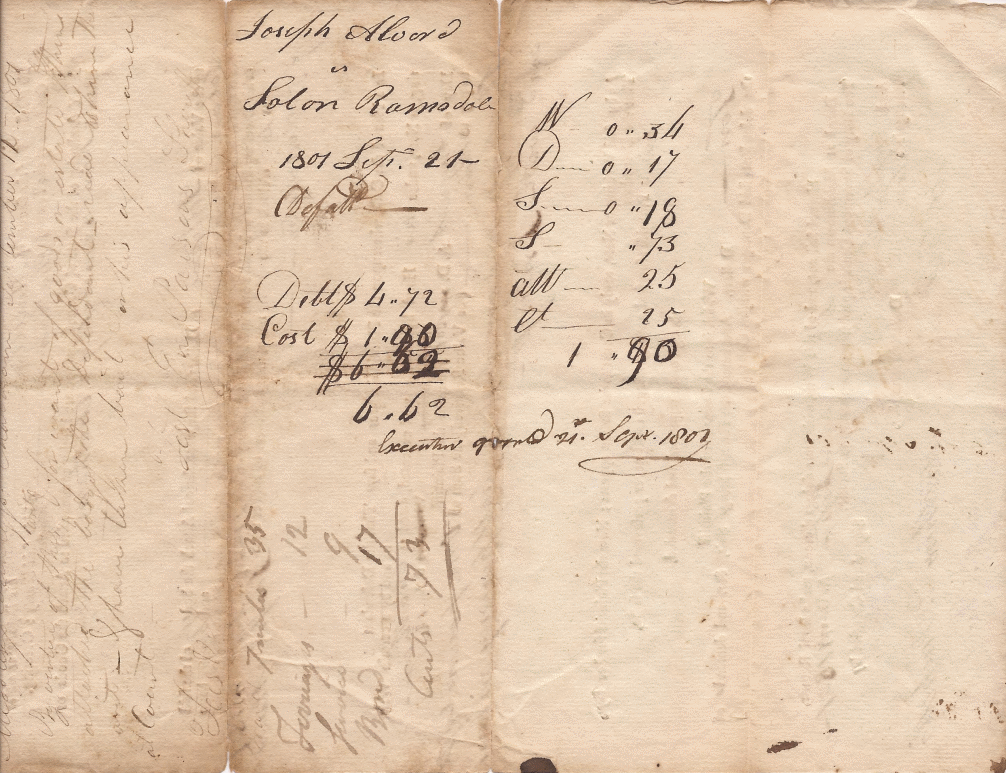 Promissory Note - Obverse

Chatham August the 12, 1801
(illegible) I promise to pay Joseph Alvord one pound eight shillings and one penny half penny (Ed: £1 8s 1½d) on demand and Interest till paid.
Witness my hand
Solon Ramsdale
Promissory Note - Reverse

Solon Ramsdale
Note to
Jos(eph) Alvord
[D 2/12 ?]
1801 Sept. 4 (?)
4.71
Solon Ramsdale
Note
on Demand
Notes
Elijah Hubbard Esquire, Justice of the Peace for Middlesex County, died 30th May 1808 age 62
12th August 1801 (Wednesday); 4th September 1801 (Friday); 21st September 1801 (Monday)
Both the Promissory Note and the (pro forma) Writ of Attachment state the original debt in Connecticut pounds (£1 8s 1½d) but the Damage is stated in Dollars (ten). The pound was the currency of Connecticut until 1793. Initially, the British pound circulated along with foreign currencies. Although the local currency was denominated in pounds, shillings and pence, it was worth less than sterling, with 1 Connecticut shilling = 9 pence sterling.
In Ramsdale's work, the intrigue of objects and artificial materials that are displayed in homes, offices, or even vehicles, and often speak to the peculiarity of interior spaces and identity. Although the materials and objects she uses are familiar, mundane and every day, they are combined together to bring into question a new synthetic nature, along with a poetic sense of humour. The materials are manipulated to illicit qualities beyond their original purpose or intent. The search for a contemporaneous existence of dichotomies - feminine/masculine, dark/light, static/moving - is often present as the artist attempts to find the balance in opposites.
Ramsdale earned a master's degree in fine arts from the University of Pennsylvania. She received an undergraduate degree in studio art from SUNY Cortland and studied at Goldsmiths College in London. She is a visual artist whose work encompasses the intrigue of personal objects and interior spaces, often re-presenting recognizable things in an effort to generate a response that feels both familiar and new.
Ramsdale was nominated for a Terra Foundation for American Art Award and an Outstanding Student Achievement in Contemporary Sculpture Award from ISC. Subsequently, she was the recipient of two Pollock-Krasner Foundation fellowships, both for residencies in upstate New York. She has been invited to talk at The College of New Jersey and the School of Design at the University of Pennsylvania. She currently teaches sculpture at Kutztown University and lives in Philadelphia, where her studio is also located.
Essex
Whaleship: 87 feet long, 238 tons, wooden hull, complement of 20, built before 1802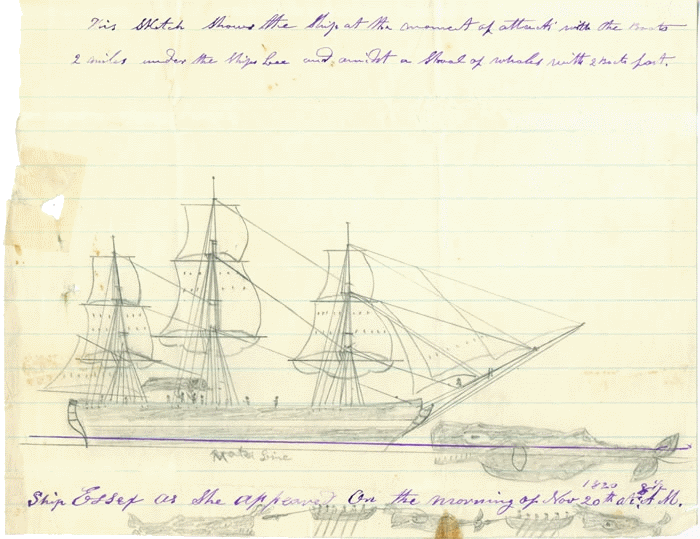 A sketch by Thomas Nickerson depicting the attack and sinking of the ship Essex
One of the most remarkable and gripping stories of shipwreck concerns that of the whaleship Essex of Nantucket, Massachusetts. This tragedy occurred in 1820; the ship had previously made four voyages, the first in 1802, to the whaling grounds off southern Africa, for whale oil, and to the Pacific for sperm oil. The Essex departed Nantucket on August 12, 1819, bound again for the Pacific with a crew of twenty, George Pollard, master. Fifteen months later, on November 20, 1820, the ship was about 2,700 miles west of Ecuador. Two boats were out, and Captain Pollard had harpooned a whale while the boat of first mate Owen Chase had been stove by a whale. He had just returned to the ship when he noticed a sperm whale charging Essex. The sperm whale's massive head struck the ship in the bows. "We looked at each other with perfect amazement," wrote Chase, "deprived almost of the power of speech." The whale turned and rammed a second time, staving the bows and forcing the crew to abandon ship.
They managed to salvage two quadrants and two sextants, some food and water, and put out in three clinker-built whaleboats before their ship sank, in 0°40S, 119°W. On December 20, they landed at Henderson's Island, which lacked either sufficient vegetation or water to sustain them, and after seven days they sailed again leaving three crew behind at their own request. The remaining three boats made first for Easter Island and then to Juan Fernández Island. On January 10, 1821, the second mate died, and two days later, Chase's boat was separated from the other two boats. A second man in his boat died on January 20, and a third on February 8. Desperate for food, they elected to eat the latter's corpse. On the 18th, the three remaining crew were picked up by the London brig Indian at 33°45S, 81°03 W, and landed at Valparaiso two days later. Meanwhile, the other two boats were separated on January 28, but not before the bodies of four deceased crew were eaten by their shipmates. On February 1, the four survivors in Pollard's boat drew lots to see who would be killed to feed the others. Pollard's cabin boy, Owen Coffin, drew the short straw and was shot. Brazilla Ray died on the 11th, and Pollard and Charles Ramsdale - Coffin's executioner - were rescued off St. Mary's Island by the Nantucket whaleship Dauphin. The three castaways who chose to remain on Henderson's Island were rescued by another ship that was at Valparaiso when their shipmates landed there.
The most detailed narrative of these ordeals was that of the first mate Owen Chase, who published his account in 1821 in "the hope of obtaining something of remuneration, by giving a short history of my suffering to the world." Briefer accounts by George Pollard and Thomas Chapple, who remained on Henderson's Island, were also published. In those less sensational times, none of the authors seems to have profited from their ordeal, although certain details of their stories, as well as those of similar wrecks of whaleships, were incorporated by Herman Melville in his quintessential whaling novel, Moby Dick.
Chase, Shipwreck of the Whaleship "Essex." Starbuck, History of the North American Whale Fishery.
Obituary Daily Times
The Obituary Daily Times is a daily index of published obituaries from across the world. It is distributed free, often twice a day by email, and usually has over 2500 entries a day. You can search the database anytime with the search engine provided.
The Obituary Daily Times does not have the actual obituaries. GEN-OBIT is an easy way to find a publication date of an obituary and you can then refer to the newspaper to get a copy of it (at the library or directly with the newspaper itself).
The following Ramsdale entries were extracted on 25 December 2002
LOCKHART, Margaret "Peggy" (Ramsdale); 79; ; Toronto G&M (ON); 2001-7-26; sw
LOCKHART, Margaret (Ramsdale); 79; ; Vanc Sun (BC); 2001-7-25; mumtaz
MacLEOD, Mae (Ramsdale); 87; Halifax NS; Chron-Herald; 1998-9-4; kbutler
MacLEOD, Mae (Ramsdale); 87; Halifax NS; Halifax D-N; 1998-9-5; kbutler
MADISON, Virginia A (Ramsdale); 84; Harborcreek PA; Erie T-N; 2000-9-16; ctdsmom
MANN, Rita (Ramsdale); 74; Decatur TX; Fort Worth S-T; 1999-12-28; txranger
Ramsdale, Carrie Black (BLACK); 84; Clarion PA; Derrick; 2000-5-15; twigs
Ramsdale, Clara V (BIERKAMP); 89; Moline IL; Quad-City Times (IA); 1997-2-7; cmlabath
Ramsdale, John; ; Glace Bay NS; Chron-Herald; 2001-5-1; kbutler
Ramsdale, John; ; Glace Bay NS; Halifax D-N; 2001-5-1; kbutler
Ramsdale, John; ; Glace Bay NS; Halifax D-N; 2001-5-2; kbutler
Ramsdale, John; 68; Glace Bay NS; Cape Breton P; 2001-5-1; kbutler
Ramsdale, John "Jack"; 86; Oakville ON; Toronto Star; 1999-3-3; ghall
Ramsdale, John "Jack"; 87; Oakville ON; Oakville B; 1999-3-3; ahf
Ramsdale, Marie V ( ); ; ; Wash DC Post (DC); 2001-6-27; artchimes
Ramsdale, Mildred E ( ); ; Setauket NY; Newsday; 1999-5-5; rpng
Ramsdale, Robert L; 54; Newark NJ; Newark S-L; 1997-4-4; namefinder
Ramsdale, Viola (SCHULTZ); 92; Rock Island IL; Quad-City Times (IA); 1999-7-24; cmlabath
Ramsdale, William Albert Valentine "Val"; 81; Victoria BC; Victoria T-C; 2002-2-19; zac
Ramsdale, William Albert Valentine "Val"; 81; Victoria BC; Victoria T-C; 2002-2-20; zac