Rebecca Ramsdale
by Lucy Morris, 23rd March 2018
Meet the queen of layering: Toronto-based Rebecca Ramsdale is your winter spirit animal
'Let me just say dressing for -9° is not the easiest'.
If you're the sort of person who prefers summer to winter, treasures an electric blanket and has more coats than any other possession then you need to get acquainted with the Queen of layering, Rebecca Ramsdale. The Toronto-based photographer and blogger may only have 6K followers on Instagram, but she has the type of selfie feed every cold-fearing human needs to see before they make any sartorial decision in the morning. Fact. Thumbing through her 800 odd posts one thing is instantly clear: she's very cool. And, not in that Gone Girl type of fake 'cool', she's a skater with a ridiculously cute dog and an untouchable selection of beanies, sunglasses and hoodies. Her USP, however, is layering …
Solon Ramsdale
Writ of Attachment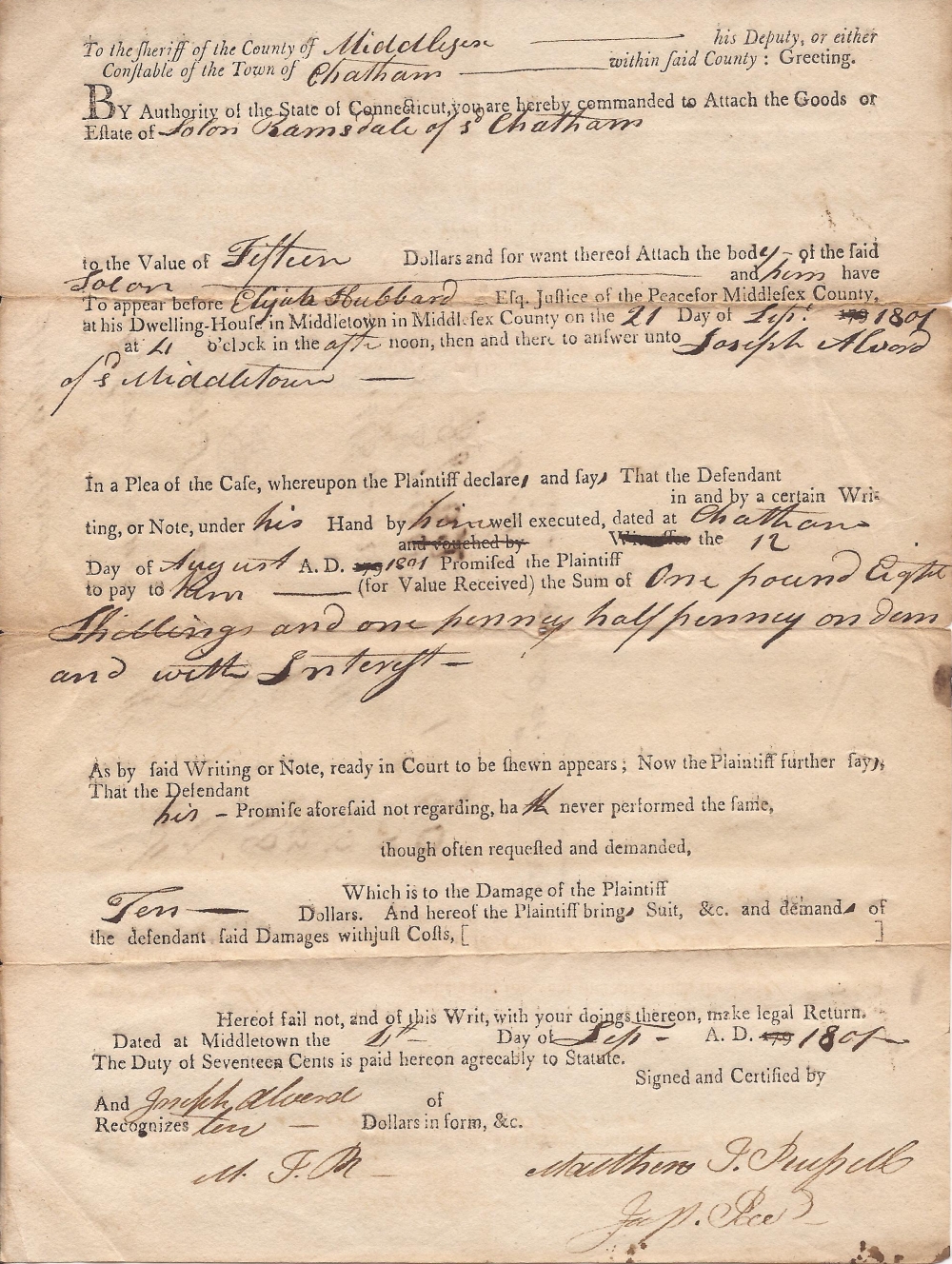 To the Sheriff of the County of Middlesex his Deputy, or either Constable of the Town of Chatham within said County: Greeting.
By Authority of the State of Connecticut you are hereby commanded to Attach the Goods or Estate of Solon Ramsdale of said Chatham to the value of Fifteen Dollars and for want thereof attach the body of the said Solon and him have to appear before Elijah Hubbard Esquire Justice of the Peace for Middlesex County at his dwelling house in Middletown in Middlesex County on the 21 day of September 179 1801 at 4 o'clock in the afternoon, then and there to answer unto Joseph Alvord of said Middletown.
In a plea of the Case, whereupon the Plaintiff declare, and say, that the Defendant in and by a certain Writing, or note, under his hand by him well executed, dated at Chatham and vouched by Winesses the 12 day of August A.D. 179 1801 promised the Plaintiff to pay to him (for value received) the sum of One Pound Eight Shillings and one Penny Half Penny on demand with Interest.
As by said Writing or Note, ready in Court to be shewn appears; Now the Plaintiff further says that the Defendant his promise aforesaid not regarding, hath never performed the same, though often requested and demanded, which is to the Damage of the Plaintiff Ten Dollars. And hereof the Plaintiff brings suit, &c. and demands of the Defendant said Damages with just costs [].
Hereof fail not, and of this Writ, with your doings thereon, make legal Return.
Dated at Middletown the 4th Day of September A.D. 179 1801.
The Duty of Seventeen Cents is paid hereon agreeably to Statute.
Signed and Certified by
And Joseph Alvord of
Recognises ten Dollars in form, &c
Matthew T. Russell, Justice of the Peace, (2 other signatures)
Writ of Attachment - Reverse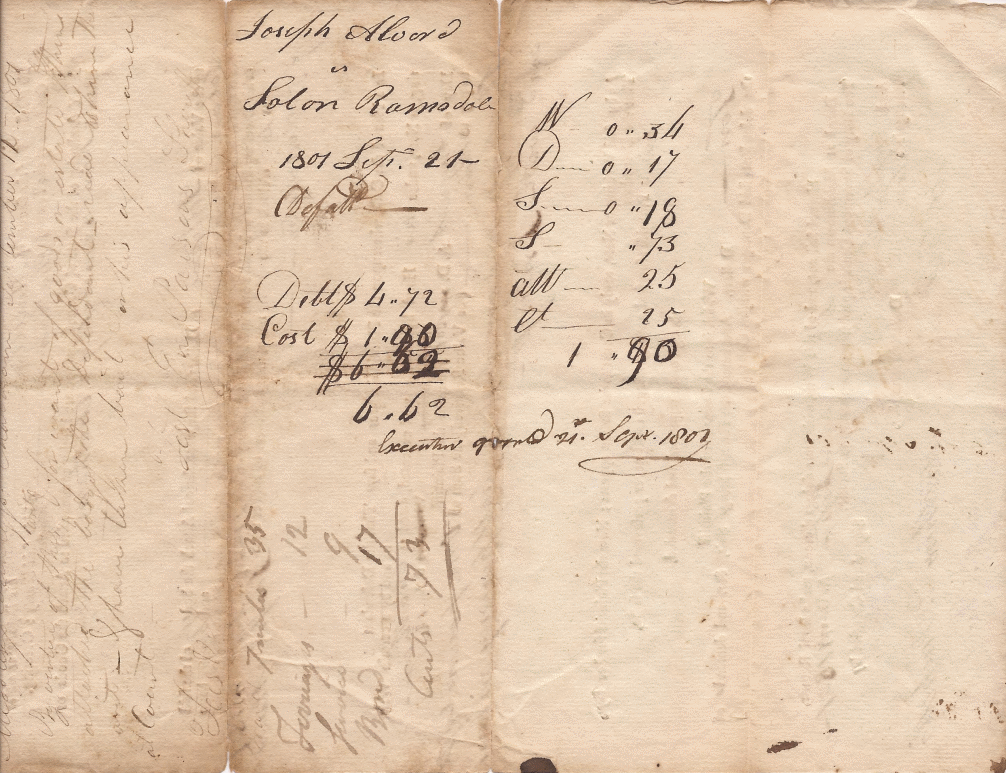 Promissory Note - Obverse

Chatham August the 12, 1801
(illegible) I promise to pay Joseph Alvord one pound eight shillings and one penny half penny (Ed: £1 8s 1½d) on demand and Interest till paid.
Witness my hand
Solon Ramsdale
Promissory Note - Reverse

Solon Ramsdale
Note to
Jos(eph) Alvord
[D 2/12 ?]
1801 Sept. 4 (?)
4.71
Solon Ramsdale
Note
on Demand
Notes
Elijah Hubbard Esquire, Justice of the Peace for Middlesex County, died 30th May 1808 age 62
12th August 1801 (Wednesday); 4th September 1801 (Friday); 21st September 1801 (Monday)
Both the Promissory Note and the (pro forma) Writ of Attachment state the original debt in Connecticut pounds (£1 8s 1½d) but the Damage is stated in Dollars (ten). The pound was the currency of Connecticut until 1793. Initially, the British pound circulated along with foreign currencies. Although the local currency was denominated in pounds, shillings and pence, it was worth less than sterling, with 1 Connecticut shilling = 9 pence sterling.
In Ramsdale's work, the intrigue of objects and artificial materials that are displayed in homes, offices, or even vehicles, and often speak to the peculiarity of interior spaces and identity. Although the materials and objects she uses are familiar, mundane and every day, they are combined together to bring into question a new synthetic nature, along with a poetic sense of humour. The materials are manipulated to illicit qualities beyond their original purpose or intent. The search for a contemporaneous existence of dichotomies - feminine/masculine, dark/light, static/moving - is often present as the artist attempts to find the balance in opposites.
Ramsdale earned a master's degree in fine arts from the University of Pennsylvania. She received an undergraduate degree in studio art from SUNY Cortland and studied at Goldsmiths College in London. She is a visual artist whose work encompasses the intrigue of personal objects and interior spaces, often re-presenting recognizable things in an effort to generate a response that feels both familiar and new.
Ramsdale was nominated for a Terra Foundation for American Art Award and an Outstanding Student Achievement in Contemporary Sculpture Award from ISC. Subsequently, she was the recipient of two Pollock-Krasner Foundation fellowships, both for residencies in upstate New York. She has been invited to talk at The College of New Jersey and the School of Design at the University of Pennsylvania. She currently teaches sculpture at Kutztown University and lives in Philadelphia, where her studio is also located.
Ramsdale's Liniment
Approximate dimensions: 4 inches tall by 1½ inches circumference
This bottle is pictured on page 289 of Digger Odell's "Pontil Medicine Encyclopedia" (2000). The product was prepared by C. W. Ramsdale, Cincinnati, and advertised in 1842 "for chafes, galls, cuts, wounds, corks, and every external complaint to which that noble animal the horse is liable."
Most glass bottles made before 1858 will have a "pontil" mark which was left when the "punty (pontil) rod" was snapped off the bottom of the bottle. The punty rod was used to hold the hot bottle while the lip was formed and finished. The punty rod was dipped into hot glass and attached to the base of the bottle by one of the helpers. The glassblower then formed the lip in the appropriate style and the punty rod was broken off. Most bottles made before 1858 have a pontil mark on the bottom, or a coin-sized indentation where the punty rod was snapped off, which acts as an excellent dating tool.
Essex
Whaleship: 87 feet long, 238 tons, wooden hull, complement of 20, built before 1802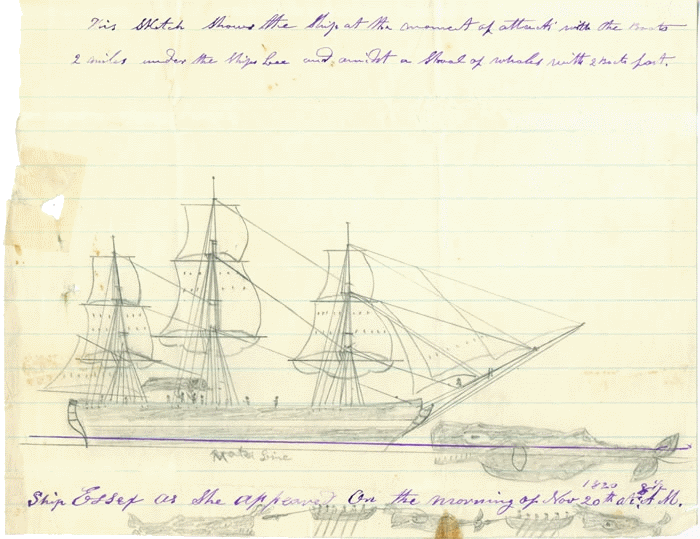 A sketch by Thomas Nickerson depicting the attack and sinking of the ship Essex
One of the most remarkable and gripping stories of shipwreck concerns that of the whaleship Essex of Nantucket, Massachusetts. This tragedy occurred in 1820; the ship had previously made four voyages, the first in 1802, to the whaling grounds off southern Africa, for whale oil, and to the Pacific for sperm oil. The Essex departed Nantucket on August 12, 1819, bound again for the Pacific with a crew of twenty, George Pollard, master. Fifteen months later, on November 20, 1820, the ship was about 2,700 miles west of Ecuador. Two boats were out, and Captain Pollard had harpooned a whale while the boat of first mate Owen Chase had been stove by a whale. He had just returned to the ship when he noticed a sperm whale charging Essex. The sperm whale's massive head struck the ship in the bows. "We looked at each other with perfect amazement," wrote Chase, "deprived almost of the power of speech." The whale turned and rammed a second time, staving the bows and forcing the crew to abandon ship.
They managed to salvage two quadrants and two sextants, some food and water, and put out in three clinker-built whaleboats before their ship sank, in 0°40S, 119°W. On December 20, they landed at Henderson's Island, which lacked either sufficient vegetation or water to sustain them, and after seven days they sailed again leaving three crew behind at their own request. The remaining three boats made first for Easter Island and then to Juan Fernández Island. On January 10, 1821, the second mate died, and two days later, Chase's boat was separated from the other two boats. A second man in his boat died on January 20, and a third on February 8. Desperate for food, they elected to eat the latter's corpse. On the 18th, the three remaining crew were picked up by the London brig Indian at 33°45S, 81°03 W, and landed at Valparaiso two days later. Meanwhile, the other two boats were separated on January 28, but not before the bodies of four deceased crew were eaten by their shipmates. On February 1, the four survivors in Pollard's boat drew lots to see who would be killed to feed the others. Pollard's cabin boy, Owen Coffin, drew the short straw and was shot. Brazilla Ray died on the 11th, and Pollard and Charles Ramsdale - Coffin's executioner - were rescued off St. Mary's Island by the Nantucket whaleship Dauphin. The three castaways who chose to remain on Henderson's Island were rescued by another ship that was at Valparaiso when their shipmates landed there.
The most detailed narrative of these ordeals was that of the first mate Owen Chase, who published his account in 1821 in "the hope of obtaining something of remuneration, by giving a short history of my suffering to the world." Briefer accounts by George Pollard and Thomas Chapple, who remained on Henderson's Island, were also published. In those less sensational times, none of the authors seems to have profited from their ordeal, although certain details of their stories, as well as those of similar wrecks of whaleships, were incorporated by Herman Melville in his quintessential whaling novel, Moby Dick.
Chase, Shipwreck of the Whaleship "Essex." Starbuck, History of the North American Whale Fishery.
Obituary Daily Times
The Obituary Daily Times is a daily index of published obituaries from across the world. It is distributed free, often twice a day by email, and usually has over 2500 entries a day. You can search the database anytime with the search engine provided.
The Obituary Daily Times does not have the actual obituaries. GEN-OBIT is an easy way to find a publication date of an obituary and you can then refer to the newspaper to get a copy of it (at the library or directly with the newspaper itself).
The following Ramsdale entries were extracted on 25 December 2002
LOCKHART, Margaret "Peggy" (Ramsdale); 79; Toronto G&M (ON); 2001-7-26; sw
LOCKHART, Margaret (Ramsdale); 79; Vanc Sun (BC); 2001-7-25; mumtaz
MacLEOD, Mae (Ramsdale); 87; Halifax NS; Chron-Herald; 1998-9-4; kbutler
MacLEOD, Mae (Ramsdale); 87; Halifax NS; Halifax D-N; 1998-9-5; kbutler
MADISON, Virginia A (Ramsdale); 84; Harborcreek PA; Erie T-N; 2000-9-16; ctdsmom
MANN, Rita (Ramsdale); 74; Decatur TX; Fort Worth S-T; 1999-12-28; txranger
Ramsdale, Carrie Black (BLACK); 84; Clarion PA; Derrick; 2000-5-15; twigs
Ramsdale, Clara V (BIERKAMP); 89; Moline IL; Quad-City Times (IA); 1997-2-7; cmlabath
Ramsdale, John; Glace Bay NS; Chron-Herald; 2001-5-1; kbutler
Ramsdale, John; ; Glace Bay NS; Halifax D-N; 2001-5-1; kbutler
Ramsdale, John; Glace Bay NS; Halifax D-N; 2001-5-2; kbutler
Ramsdale, John; 68; Glace Bay NS; Cape Breton P; 2001-5-1; kbutler
Ramsdale, John "Jack"; 86; Oakville ON; Toronto Star; 1999-3-3; ghall
Ramsdale, John "Jack"; 87; Oakville ON; Oakville B; 1999-3-3; ahf
Ramsdale, Marie V ( ); Wash DC Post (DC); 2001-6-27; artchimes
Ramsdale, Mildred E ( ); Setauket NY; Newsday; 1999-5-5; rpng
Ramsdale, Robert L; 54; Newark NJ; Newark S-L; 1997-4-4; namefinder
Ramsdale, Viola (SCHULTZ); 92; Rock Island IL; Quad-City Times (IA); 1999-7-24; cmlabath
Ramsdale, William Albert Valentine "Val"; 81; Victoria BC; Victoria T-C; 2002-2-19; zac
Ramsdale, William Albert Valentine "Val"; 81; Victoria BC; Victoria T-C; 2002-2-20; zac
George Lafayette Ramsdale (1820 - 1884)
George Lafayette Ramsdale (1820 to 1884) was a native of Devonshire, England. By 1836, he had come to Texas and enlisted in the army during the war for independence from Mexico. After the revolution, Ramsdale, his wife, Elizabeth (1825 to 1909) and their children lived in Harrison, Rusk, Houston, and Bosque Counties. During the Civil War, he served the Confederacy by protecting the frontier. The family moved to Wise County in 1866, where he farmed and operated a tannery. His military service, adventuresome spirit, and community leadership are significant examples of the state's pioneer heritage.
Wise County Historical Markers
George Lafayette Ramsdale
Marker Title: George Lafayette Ramsdale
Address: CR 3352
City: Paradise
Year Marker Erected: 1985
Marker Location: Paradise Cemetery (just west of Paradise on CR 3352)
Putnam Connecticut and Surrounding Area, A Brief History
In the nearby Town of Webster, Massachusetts, (8 miles from Putnam just over the Massachusetts) is Lake Webster also known as Lake Chargoggagoggmanchaugagoggchaubunagungamaug - in Indian language translates as "You fish on your side, I fish on my side, nobody shall fish in the middle". The "other name" for Lake Webster at last accounting is in the Ripley's Believe it or Not book as the longest placename in the English language.
Nobody could forget Alice Ramsdale. Alice grew up in the town of West Thompson in a very old venerable farm house. After the town of Putnam had been flooded more than once it became obvious that something had to give or Putnam had to be moved. Well, the Army Corps of Engineers had a very hard time convincing Alice that SHE would have to give and move along with the entire hamlet of West Thompson. Well, the story goes that Alice sat there on her porch with a shotgun threatening to shoot anyone who tried to evict her from her property. Ended up in something resembling a Mexican Standoff. Finally an agreement was reached permitting Alice to stay until she went to the great beyond. That moment came in the early 1990's at a ripe old age. When cleaning out Alice's personal belongings a very large (full scale) locomotive had to be removed and carted off. It had belonged to her (obviously equally eccentric) father and had been squirrelled away in the barn for safe keeping.
Alice used to allow local school children to come admire her locomotive. Today Alice's farmhouse stands empty and the Thompson Dam has outlived her. She is now a bit like the odd fragment of silverware that washes up in the dam sand, the foundations exposed at low water and the roads that trail off into the water …
"Midnight Baby" by Wendy Hornsby
Book Description: Photographer and documentary filmmaker Maggie MacGowen, divorced mother of teenage daughter Casey, is caught up in the short life of 14 year-old Hillary Ramsdale, found murdered soon after Maggie met her, homeless and frightened, on the mean streets of Los Angeles.
Maggie, on an L.A. assignment from her home base in San Francisco, attaches herself to the investigation headed by sometime lover LAPD detective Mike Flint. Together, the two track the bizarre background of the young victim through the yacht-and-country-club world of Randall and Elizabeth Ramsdale, whose lives are somehow entwined with those of restaurant owner George Metrano and his wife Leslie. Randall Ramsdale hasn't been seen for a while. When his body surfaces, it becomes apparent that danger lurks for everyone connected with the investigation.
"Please Omit Funeral" by Hildegarde Dolson
published by J.B. Lippincott, 1975
Self-appointed censor Georgina Hampter decides there are too many "dirty" books in the school library of fashionable Wingate, Connecticut, and takes matters into her own hands. She puts the torch to a number of 20th-century American classics, including Wayward the World by local bad-boy author Lawrence Dilman. A few days later, Dilman hosts a party for his friends, relishing the unexpected publicity from the fact that his old novel has been done away with - but not for long, because one of his guests does away with Dilman himself.
Amateur sleuth Lucy Ramsdale (illustrator) has no doubts that Georgina Hampter murdered Dilman. But Lucy's lodger, ex-police Inspector James McDougal, digs up an exotic murder weapon, and suddenly the list of suspects blooms to include almost everyone that Lawrence Dilman ever rubbed the wrong way - and that means almost everyone in Wingate.
Lucy Ramsdale and James McDougal are also featured in: To Spite Her Face (1971), A Dying Fall (1973) and Beauty Sleep (1977)
¹Hildegarde Dolson: 31 August 1908 - 15 January 1981.