Police launch Operation Ramsdale ahead of Sydney 500
Thursday, 04 December 2014 04:22:05 PM
Police are urging racegoers to plan their trip ahead of the V8 Supercars Sydney 500 this weekend.
The 2014 V8 Supercars Championship Finale, the Sydney NRMA Motoring and Services 500, will start tomorrow (Friday 5 December 2014) and concludes with the main event on Sunday (7 December 2014) at Sydney Olympic Park.
The 3.4 km race track is purpose built each year, using the existing public roads, including Australia Avenue, Kevin Combes Avenue, Edwin Flack Avenue and Dawn Fraser Avenue.
Police will launch Operation Ramsdale to ensure the safety of competitors, officials and spectators throughout the weekend. General duties officers from South West Metropolitan Region will be assisted by officers attached to the Public Order and Riot Squad (PORS), Dog Unit, Licensing, Police Transport Command and Traffic and Highway Patrol Command, to maintain a highly-visible presence in the area. Operation Ramsdale Commander, Assistant Commissioner Frank Mennilli, said police are working closely with event organisers to ensure the event is family-friendly.
"The Sydney 500 is one of the toughest races in the Championship and with heavy rain predicted across the weekend, it will be memorable," Assistant Commissioner Mennilli said. "Extra police - both in uniform and plain clothes - will be patrolling the Sydney Olympic Park precinct, to make sure the race is memorable for the right reasons. We respect people's right to enjoy the weekend, but anyone who tries to ruin it for others, will be stopped in their tracks."
With thousands of racegoers expected to make their way to the precinct over the weekend, police are urging ticketholders to make use of the integrated ticketing system.
"All Sydney 500 tickets include the cost of public transport, and we strongly urge people to make use of it," Assistant Commissioner Mennilli said. "For those racegoers who are planning to drink, you need a plan to get home, so a free bus, train or ferry is a great option. If you choose to drink and drive, you'll get a ride in the back of a police car to the police station, finished off with a criminal record."
Additional officers attached to Traffic and Highway Patrol Command will be patrolling the area targeting drink-driving, speeding and dangerous driver behaviour.
"Officers will come down hard on those law-breaking motorists who put not only themselves but other innocent road users at risk," Assistant Commissioner Mennilli said. "My advice is to leave the car-racing to the professionals on the track."
In addition, police are urging racegoers to prepare for inclement weather, especially thunderstorms.
"The Bureau of Meteorology are predicting thunderstorms and rain across the weekend, which could be dangerous both on and off the track," Assistant Commissioner Mennilli said. "We encourage spectators to wear appropriate wet weather gear and in the event of a storm, seek secure shelter way from drains, causeways, streams, creeks, trees and power lines. Most importantly, look out for each other and alert police is someone needs assistance," Assistant Commissioner Mennilli said.
For public transport timetables, including special arrangements, to plan your trip visit: www.transportnsw.info or call 131 500. For all special event traffic information, including local road closures and clearways, refer to the live traffic website for details: www.livetraffic.com. Further information on the event can be found at sydney.v8supercars.com.au
Breaker Morant and George Ramsdale Witton
On his return to Africa in April 1901, Lieutenant Morant enlisted with the newly formed Bushveldt Carbineers, a mainly Australian force raised in South Africa, to fight the Boers in Northern Transvaal on their own terms. No unit was more feared by the Boers than the Bushveldt Carbineers. On August 5, 1901, Capt. Hunt and 17 Carbineers rushed a Boer farmhouse and were surprised to find four times as many Boers as expected. During the attack both Capain Hunt and Sergeant Eland were killed.
According to a witness and corroborated by others, Hunt, who was only wounded, was killed and mutilated, his neck broken, his face stamped upon with hob-nailed boots and his legs slashed with a knife. His body had also been stripped completely of clothes. An enraged and grieving Morant exacted his revenge by executing Visser, a Boer found wearing Hunt's clothes, and some other Boer prisoners. A German missionary named Hesse was also killed after Morant had suspicions about his motives in speaking with Boer prisoners.
Seven Carbineers, including Lieutenants Morant, thirty years old Peter Joseph Handcock and twenty-seven years old George Ramsdale Witton, were charged with shooting Boer prisoners and the German missionary. Major Thomas, an inexperienced Australian lawyer from Tenterfield, New South Wales, was appointed to defend the Australians. The court-martial began in January 1902. Morant showed nothing but contempt for his judges and accusers. He freely admitted shooting the Boers and justified his actions on the ground that Kitchener himself had given instructions that no prisoners were to be taken. During the court proceedings, the Boers attacked Pietersburg where the trial was being held. The accused men fought bravely and the Boer attack was defeated. It made no difference to the outcome of the trial. The three Australians were found guilty of the murders of the Boers but were acquitted of the murder of the German missionary. Morant and Handcock's death sentences were signed by Lord Kitchener on 4 February 1902. George Ramsdale Witton's death sentence was reduced to life in prison.
Game to the last, Morant and Hancock refused to be blindfolded and went before the firing squad at the old Pretoria gaol, Pietersburg in the early morning of 27 February 1902. Hancock's wife, who lived in Bathurst with her three children, only found out from the newspapers that her husband had been shot. Kitchener later admitted, in writing, that he had issued orders to kill Boers wearing English uniforms!! George Ramsdale Witton went to prison on the Isle of Wight, and after serving nearly three years, his life sentence was overturned by the British House of Commons on August 11, 1905. In 1907, Lieutenant George Ramsdale Witton published his book Scapegoats of the Empire: The True Story of Breaker Morant's Bushveldt Carbineers (Sydney: Angus and Robertson Publishers, 1907; ISBN: 0207146667; December 1982). A new edition was published in 2004 and the book is now available to read online at The Australian Boer War Memorial. Very few copies of the 1907 edition exist today because, according to one story, the Australian Government considered that its contents could implicate Lord Kitchener and had all copies seized. His biography may be read online at Lieutenant George Witton: Ancestor Details
"The Bushveldt Carbineers and the Pietersburg Light Horse" by William Woolmore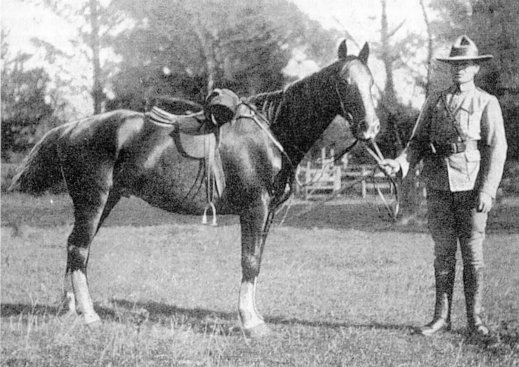 Lieutenant George Ramsdale Witton
Lieutenants Morant, Handcock and George Ramsdale Witton were charged with shooting or instigating others to shoot eight Boers on 23 August 1901. The "eight Boers" court martial began on 3 February 1902. The facts were generally not disputed by the defence. Lieutenant George Ramsdale Witton's statement reads as follows:
"I had received my commission as a Lieutenant about six weeks before the 23rd August. I was told what the orders about Boers were as received from Captain Hunt, and I took it they were correct; I did whatever I was told, and raised no objection one way or the other, as it is customary to obey orders.
Captain Hunt and Lieutenant Morant were great friends, and I supposed that all orders were correct that Captain Hunt gave. He was greatly relied upon by all when he came to reform matters at Spelonken, after Captain Robertson left.
On 23rd August one of the Boers rushed at me to seize my carbine, and I shot at him to keep him off."

Carved rifle butt of Lieutenant George Ramsdale Witton
The court martial found them all guilty and they were sentenced to suffer death by being shot. Notwithstanding that the court had recommended all three to mercy, Lord Kitchener confirmed all sentences except Witton's which he commuted to penal servitude for life. On 26 February 1902, each of the convicted men in turn was escorted into the office of Pretoria Gaol Governor and had his sentence read out. Morant was first and when he returned to the others he was deeply depressed. Witton asked him what was wrong and he replied "Shot tomorrow morning". Handcock was next and on his return remarked "Same as Morant". Witton was next escorted in and was fully prepared for the same fate. Assistant Provost Marshal, Captain Hutson, informed him:
"George Ramsdale Witton, you have been found guilty of murder and sentenced to death - Lord Kitchener has been pleased to commute your sentence to penal servitude for life".
Witton later wrote: "The appalling injustice of the sentences was a terrible blow to us".
Witton was informed that he would be on a train to Cape Town at 5 am next morning and would then be shipped to prison in England. He was up and ready at dawn and requested permission to farewell Morant and Handcock. He found that "They were calmly prepared to meet their death, as they often had been before at times during the war".
As Witton languished in Portland Prison in England, an Empire-wide movement clamoured for his release. Motions pressing for this were passed in the Parliaments of Australia, Natal and Cape Colony, and a series of large public meetings carried motions and raised petitions to the King for the release of Witton. Public figures around the world expressed their support for this action. Witton was released from Portland Prison and was returned to Australia in 1904.
Brief Biography (see page 287 for further biographical details)
George Ramsdale Witton, Lieutenant (BVC), was born in Kirkstall near Warrnambool in Victoria, Australia on 28 June 1874, son of David William Witton and Rebecca née Watson. From a farming family of nine, he grew up on the land near Korrumburra in Victoria. He joined the Victorian Rangers, a volunteer infantry regiment, and after serving two years with them he joined the Victorian Permanent Artillery at Fort Queenscliffe. He was a tall man, over six foot in height, an expert with horses, and a skilled rifle shot.
HO Records created or inherited by the Home Office, Ministry of Home Security, and related bodies
Division within HO General registers, registered papers, warrant and entry books and correspondence; and records of General and E Departments, and wartime departments (First World War)
HO 144 Home Office: Registered Papers, Supplementary
HO 144/580/A63460 This file has been catalogued under more than one subject heading. These headings, and details of this file, are shown at item level.
Criminal - List of Criminal Cases, Including Extradition Cases:
Witton, George Ramsdale
Court: Military Court Martial, Pietersburg, S.A.
Offence: Murder on Active Service
Sentence: Death - P.S. for Life
25.2.02
MILITARY: George Ramsdale Witton - Capital sentence (Court Martial) commuted to P.S. life. Remission after 2 years granted by War Office to enable prisoner to go to Australia.
1902-1904