Ramsdale Valley, Scarborough, Yorkshire
Edwardian Postcards: 1901 to 1915
Ramsdale Valley

In Scarborough there is a park on each side of the Ramsdale valley, which is crossed by the Cliff Bridge, built in 1827, and the Ramsdale Valley Bridge, opened in 1865. Ramsdale Valley (once the scene of corn mills) became the People's Park in 1860. The main road through the valley (formerly Mill Lane) was completed in 1861. People's Park was named Valley Gardens in 1912.

Extract from Bulmer's History and Directory of North Yorkshire (1890)

Ramsdale Valley: Scarborough derives an advantage not possessed by many watering places from its natural conformation of hill and dale. Not only has it two distinct portions, separated by the valley, but connected by the two bridges which obviate the necessity for a descent of the one hill and an ascent of the other; but the rocky promontory of castle cliff gives it two bays, each with its own distinctive features of attraction of an opposite character.

New (Cliff) Bridge, Scarborough in 1830

The Cliff Bridge, which spans the ravine, in which the Aquarium is built, and leads from St. Nicholas' Cliff to the Spa, is a splendid iron structure, 414 feet long and 13½ feet wide, whilst the height above water mark is 75 feet. The foundation stone was laid in 1826, and the bridge was opened to the public in 1827. It cost about £9,000. In 1880 the width of the road was increased, and a siding was added for the convenience of persons desiring only to walk between the town and the south cliff. The toll is one halfpenny. The prospect from this bridge is at once extensive and varied, and with the walks about the Spa, a picture is constituted which is not often equalled, and seldom excelled.

The Valley Bridge has proved, next to the Cliff Bridge, one of the most important additions to the means of inter-communication in the town, as it has done away with the necessity for the descent and ascent of steep cliffs between the two portions of the town. It was first erected over the Ouse at York, but purchased and re-erected here by a company in 1865. The bridge consists of three spans of neary 300 feet each, crossed by means of wrought-iron girders. The roadway on the bridge itself rises about nine feet from south to north. The length of the iron work is 550 feet, and the clear width 39 feet. The toll is one halfpenny each person; for horses, carriages, &c., see bye-laws.

The views on either hand from this bridge are truly charming. Looking down the valley may be seen winding walks amid the foliage of the park, the wooded sides of which are relieved by the richly cultivated gardens; further, the Museum and the Aquarium, the Cliff Bridge and Grand Hotel; and beyond, the castle hill with the German ocean in the distance studded with vessels. The view inland is a panorama of hills and dales and sylvan beauty.

Scarborough Valley Bridge Company

£200 Consolidated Stock Certificate (12th July 1872)

The People's Park: This name has been given to Ramsdale Valley, commencing near the Aquarium and extending towards Falsgrave. It is thickly wooded, and tastefully laid out, with numerous walks and seats. A path branching to the right, under a splendid avenue of lofty trees, leads to the railway station. Further up is the fish pond, while many rare swans, geese, and other fowls of various plumage add picturesqueness to the scene.

Scarborough 1895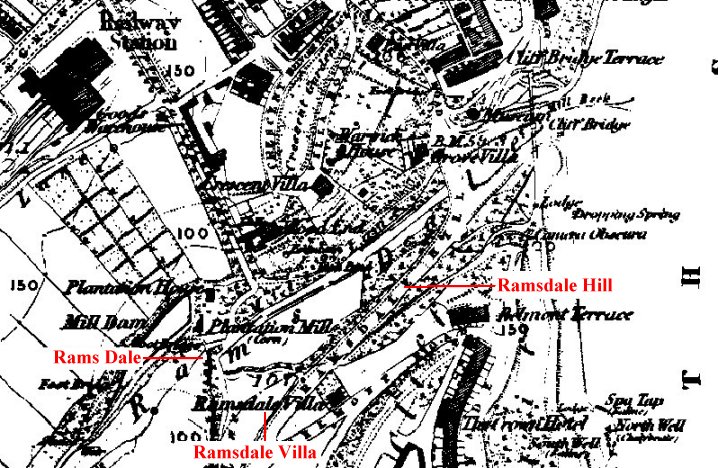 Ramsdale Valley, Scarborough, 1853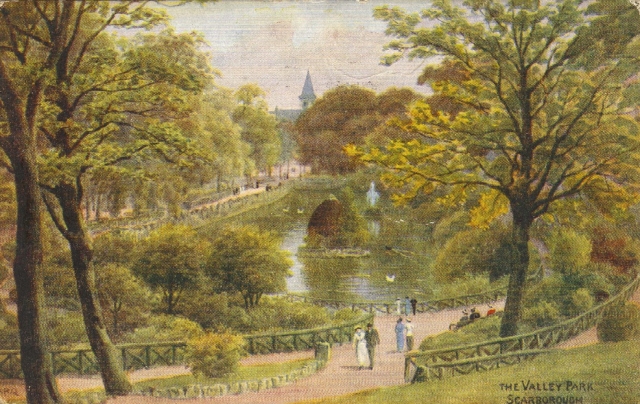 The Valley Park, Scarborough (Undated)
Lily Pond, Valley Gardens, Scarborough (Undated)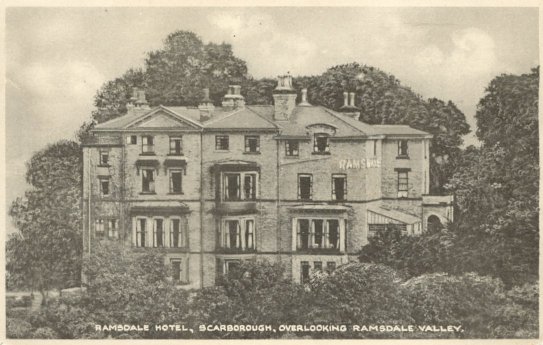 Ramsdale Hotel, Scarborough, overlooking Ramsdale Valley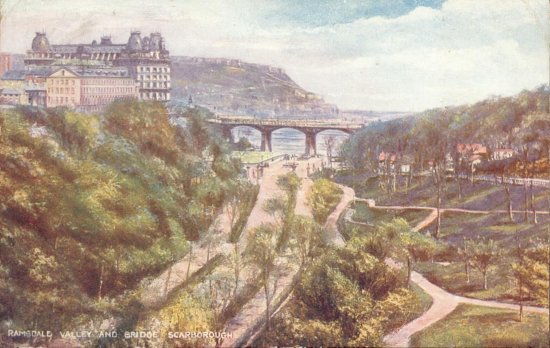 Ramsdale Valley and Bridge (1904)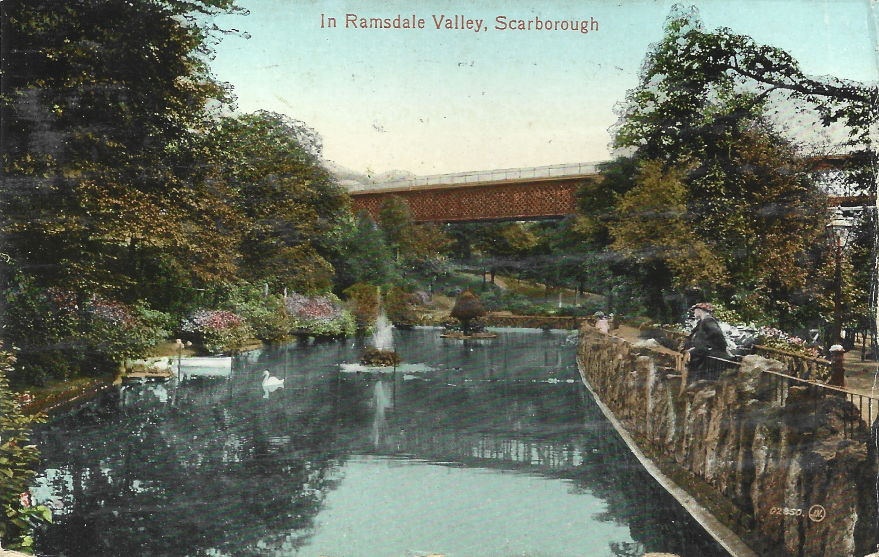 In Ramsdale Valley, Scarborough (4th August, 1904)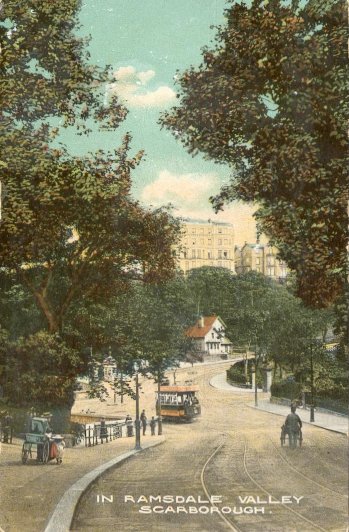 In Ramsdale Valley Scarborough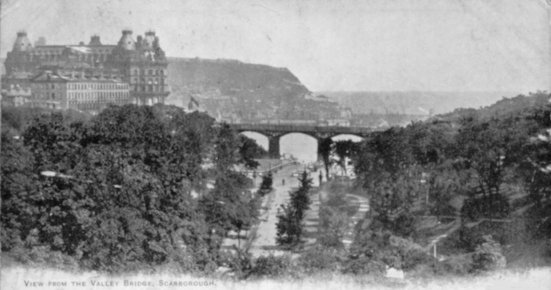 View from the Valley Bridge, Scarborough (1902)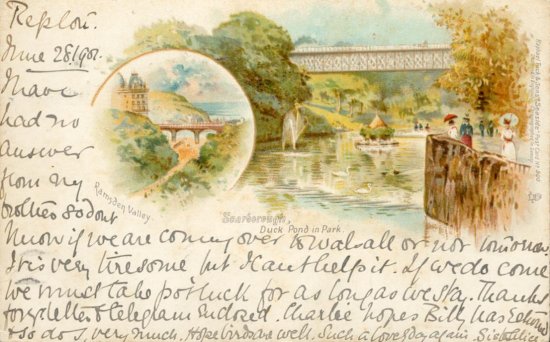 Ramsden (
sic
) Valley & Scarborough, Duck Pond in Park (1901) (QV SG 213)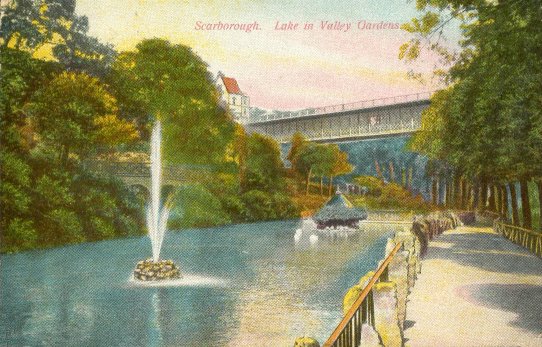 Scarborough. Lake in Valley Gardens (1905)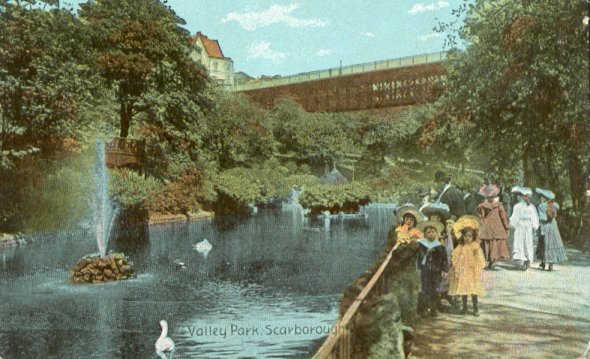 Valley Park, Scarborough (1907)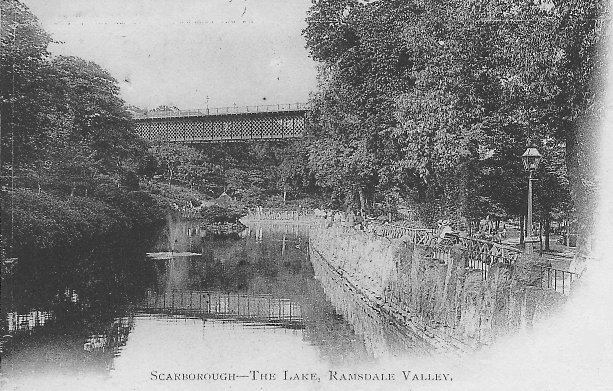 Scarborough - The Lake, Ramsdale Valley (1902)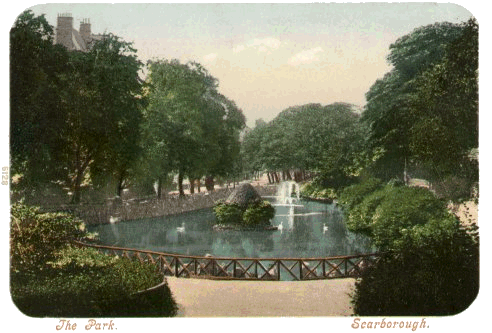 The Park, Scarborough (1904)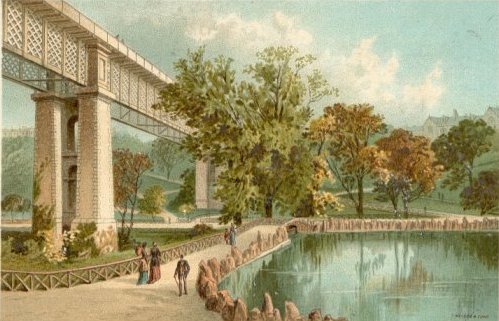 In Ramsdale Valley - Scarborough (1903)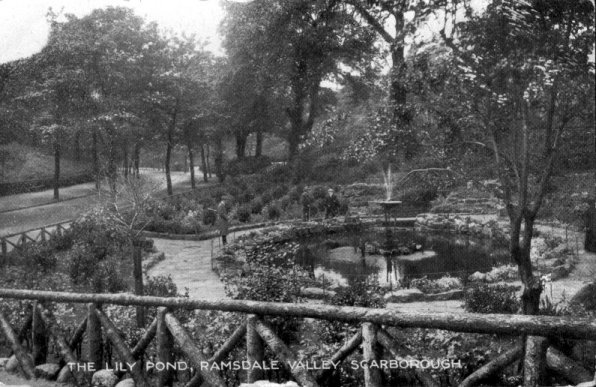 The Lily Pond, Ramsdale Valley, Scarborough (1913)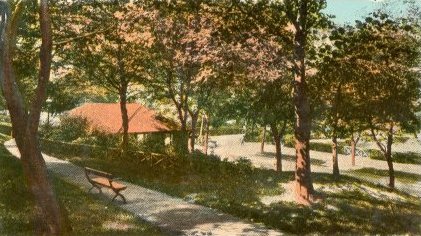 "Sunshine and Shade", The Valley, Scarborough (1913)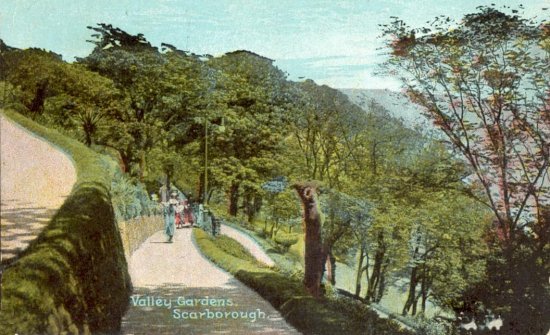 Valley Gardens, Scarborough
Ramsdale Valley, Scarborough (1906)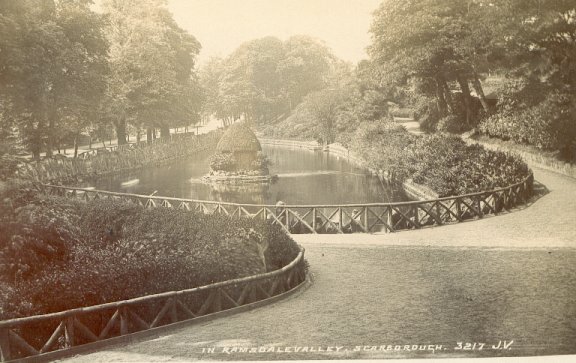 In Ramsdale Valley, Scarborough (1907)
Scarborough, The Valley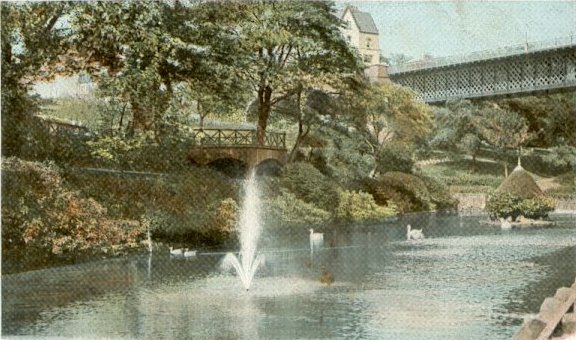 Scarborough. The Valley, Duck Pond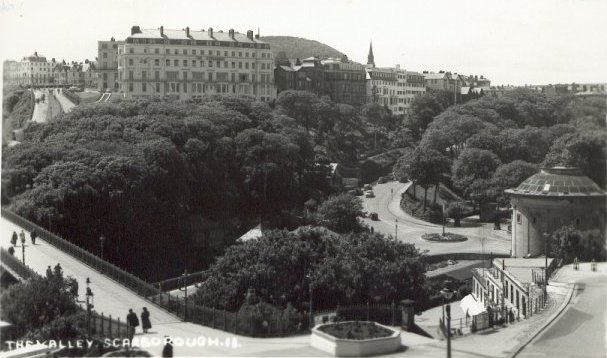 The Valley, Scarborough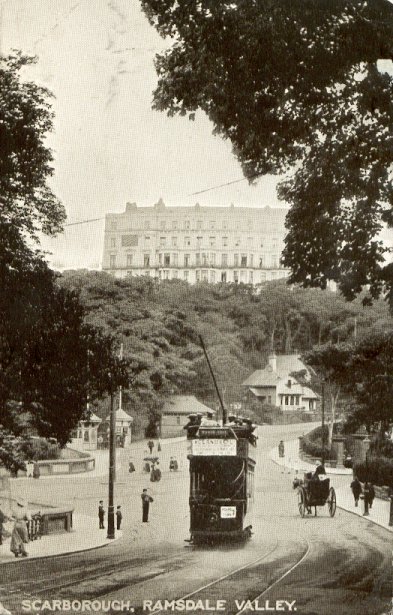 Scarborough, Ramsdale Valley (1907)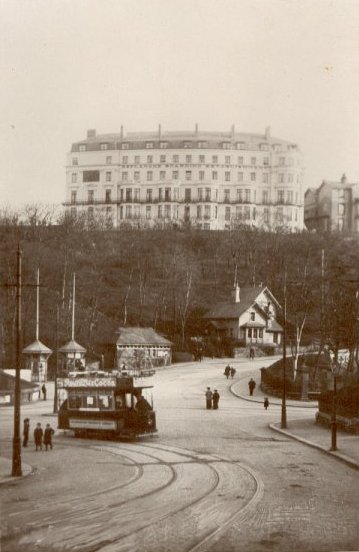 Ramsdale Valley, Scarborough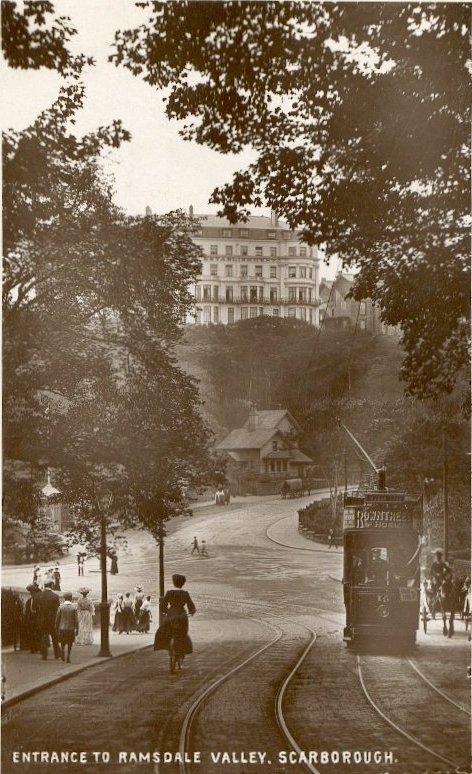 Entrance To Ramsdale Valley, Scarborough (1910)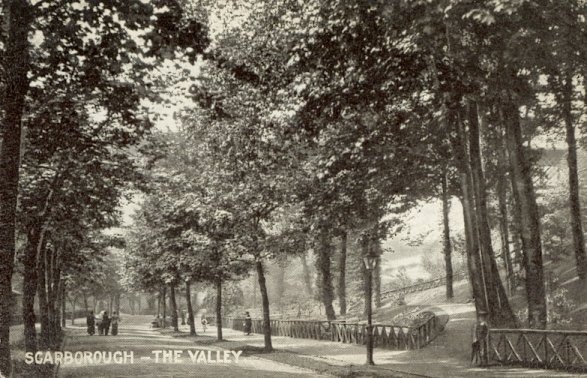 Scarborough - The Valley (1906)
Valley Gardens, Scarborough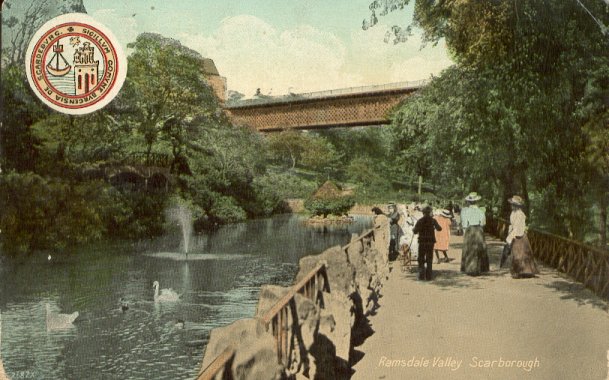 Ramsdale Valley Gardens, Scarborough (1905)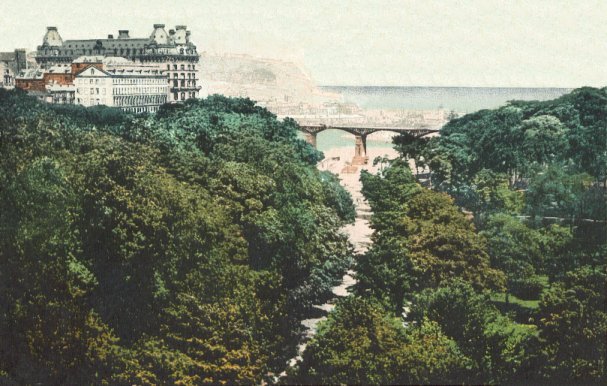 Ramsdale Valley, Scarborough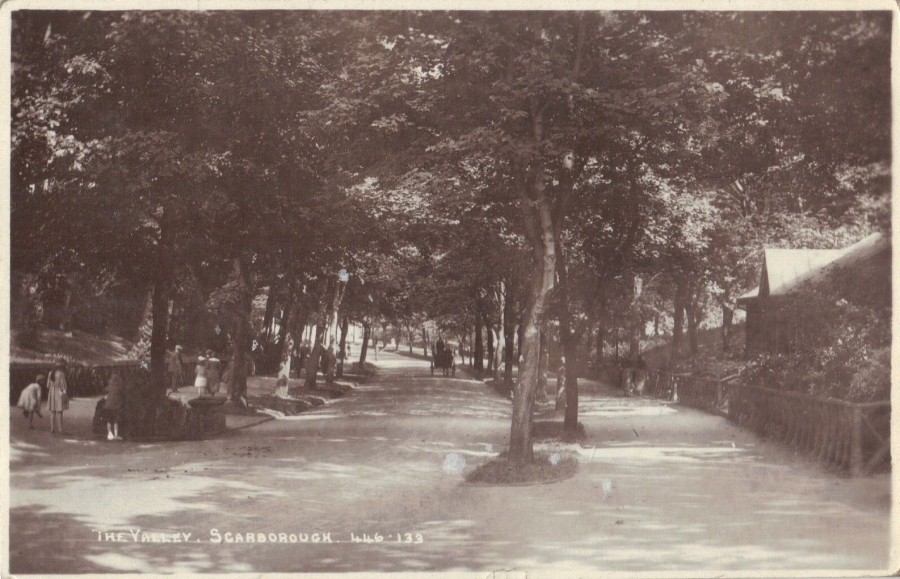 The Valley, Scarborough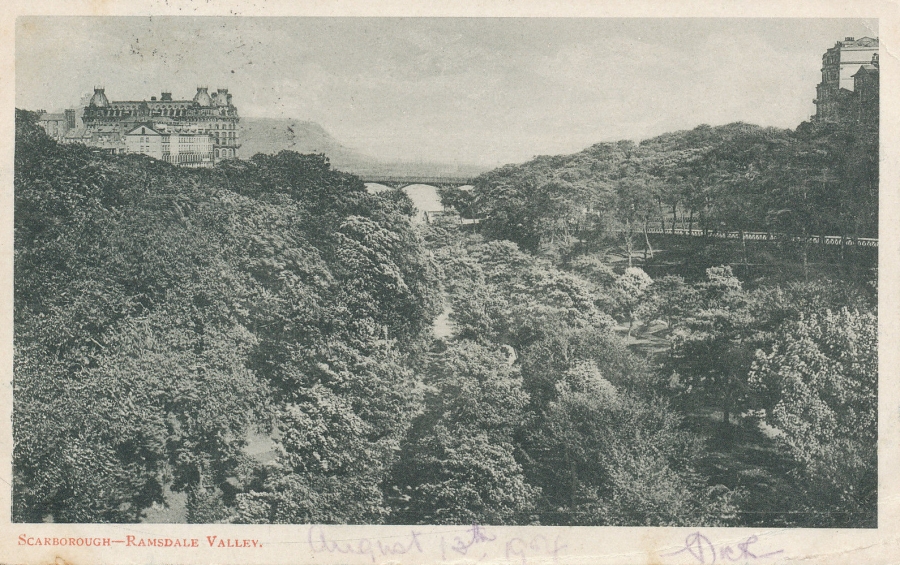 Scarborough - Ramsdale Valley (13th August 1904)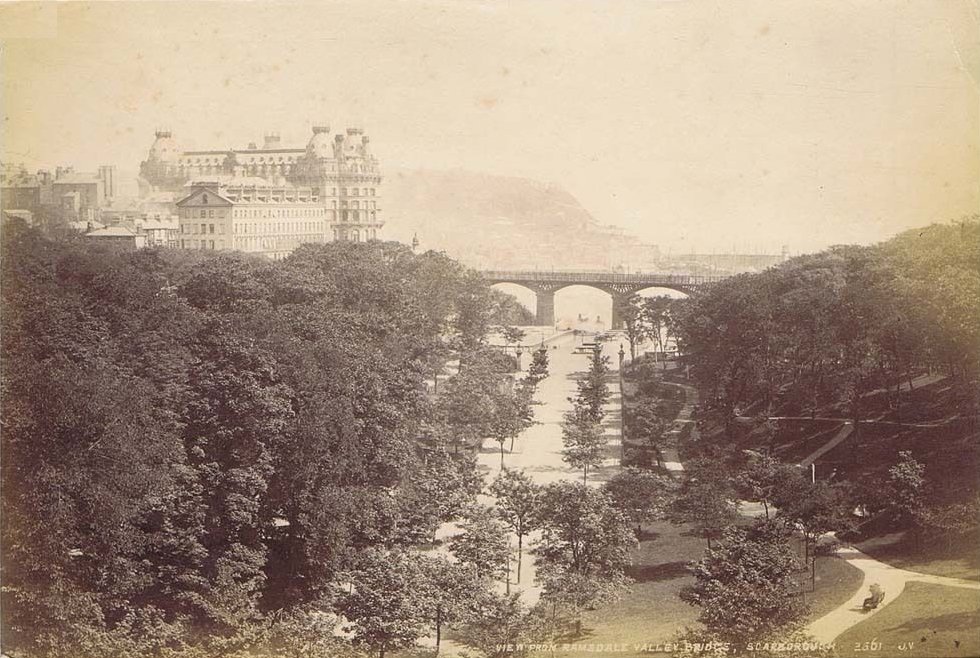 View from Ramsdale Valley Bridge, Scarborough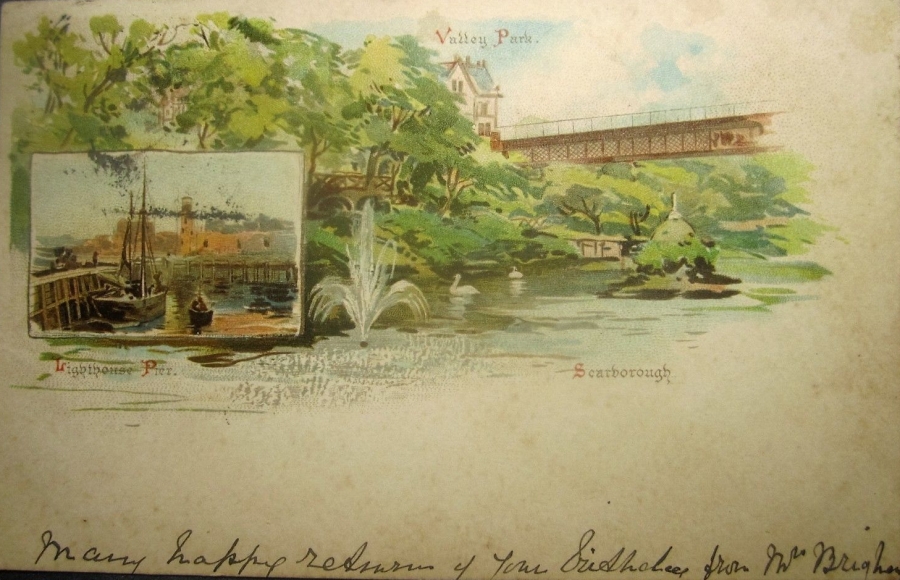 Valley Park (and Lighthouse Pier) (1907)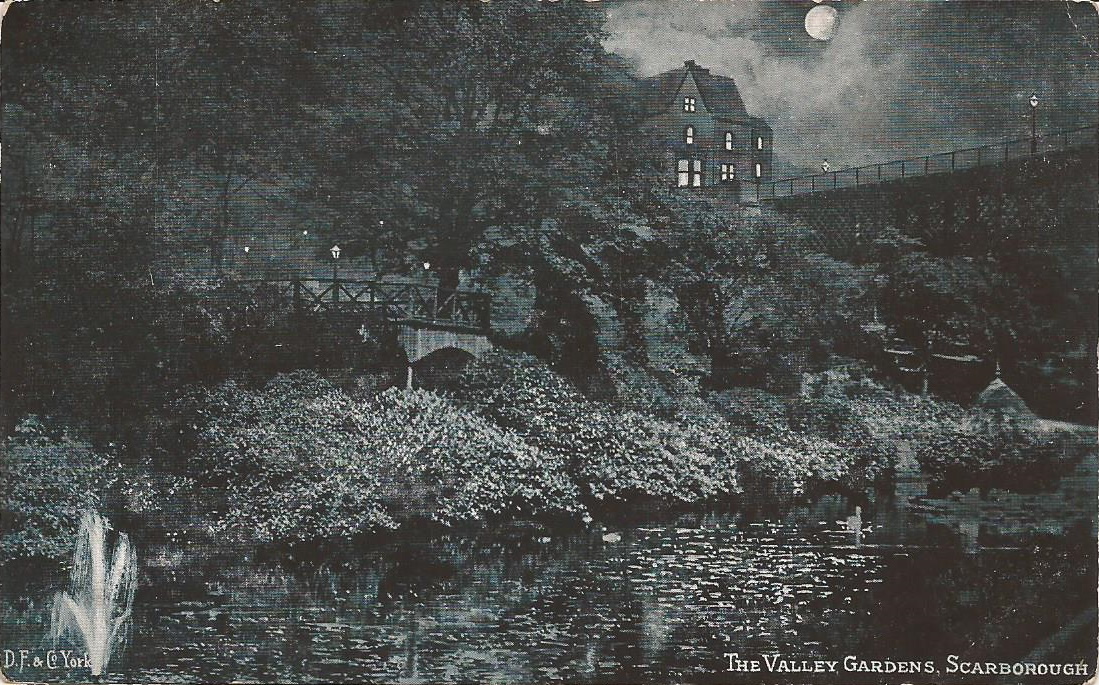 The Valley Gardens, Scarborough (1904)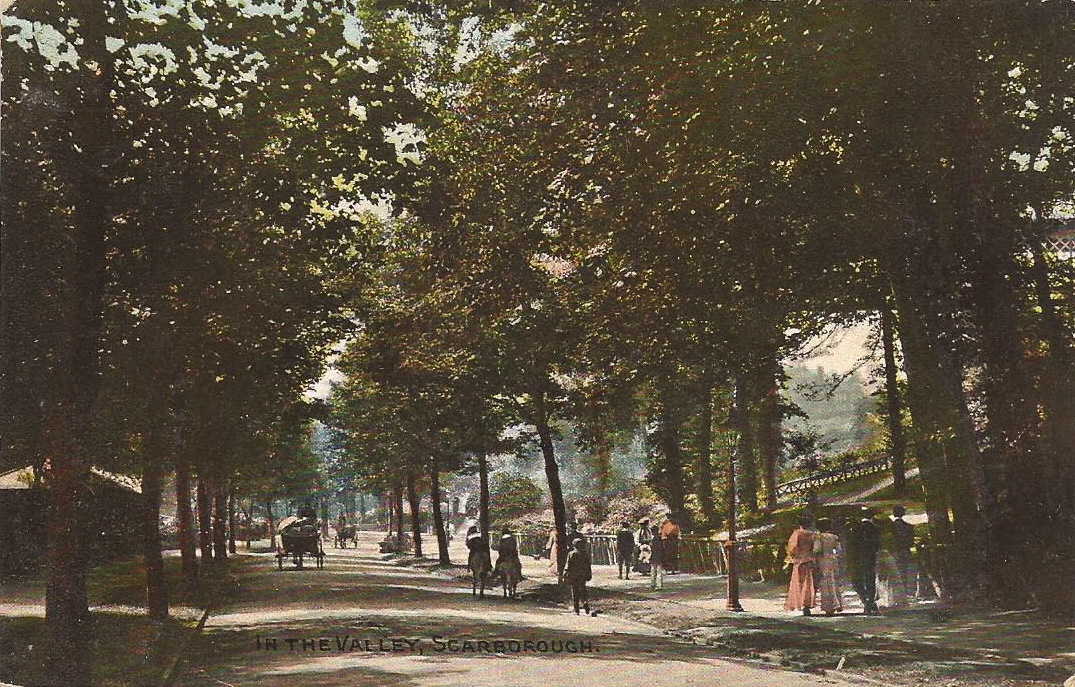 The Valley, Scarborough (1907)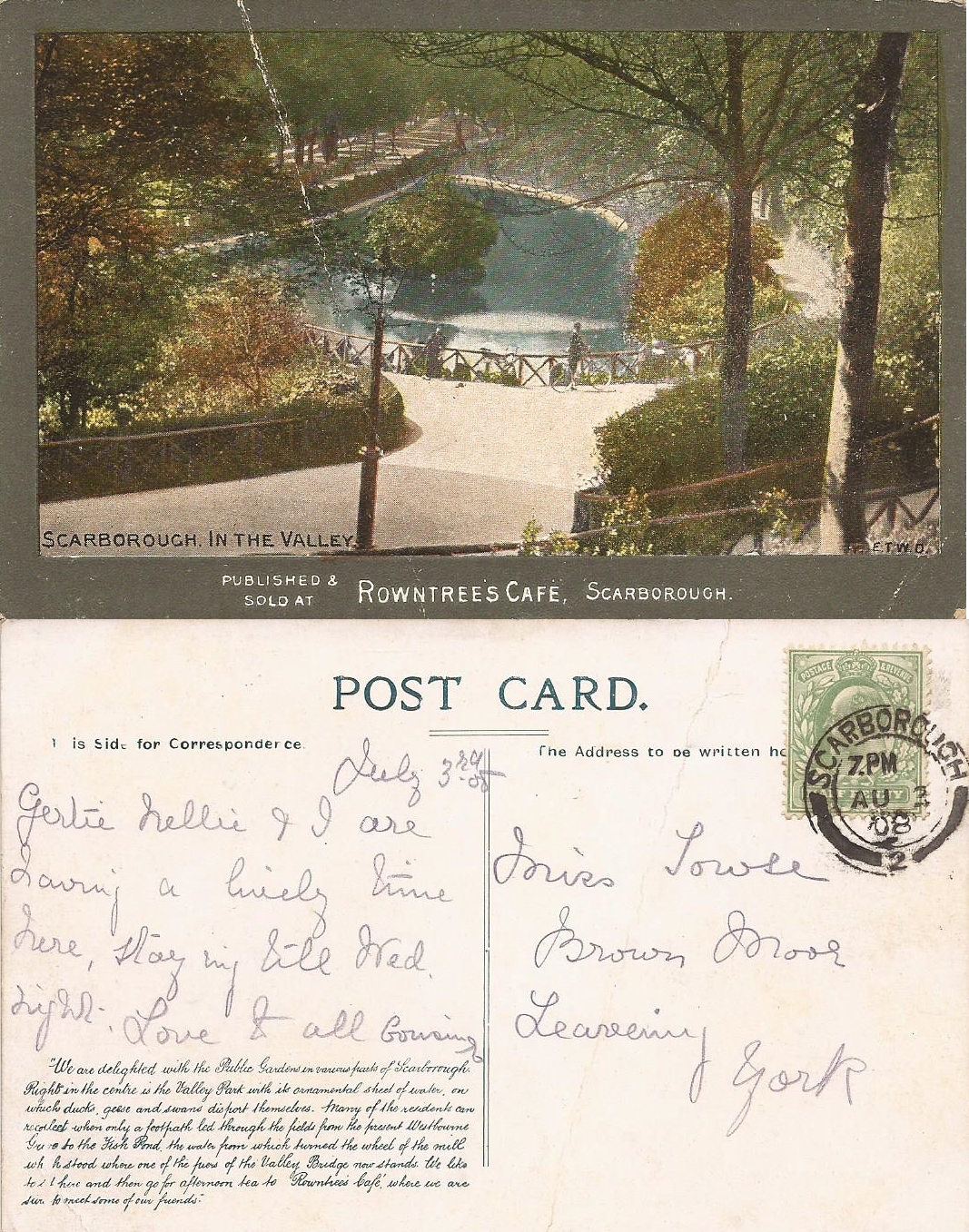 Scarborough. In the Valley (3rd July/August 1908)
Published and sold at Rowntree's Café, Scarborough
"We are delighted with the Public Gardens in various parts of Scarborough. Right in the centre is the Valley Park with its ornamental sheet of water, on which ducks, geese and swans disport themselves. Many of the residents can recollect when only a footpath led through the fields from the present Westbourne Gate to the Fish Pond, the water from which turned the wheel of the mill which stood where one of the piers of the Valley Bridge now stands. We like to stroll here and then go for afternoon tea to Rowntree's Café, where we are sure to meet some of our friends."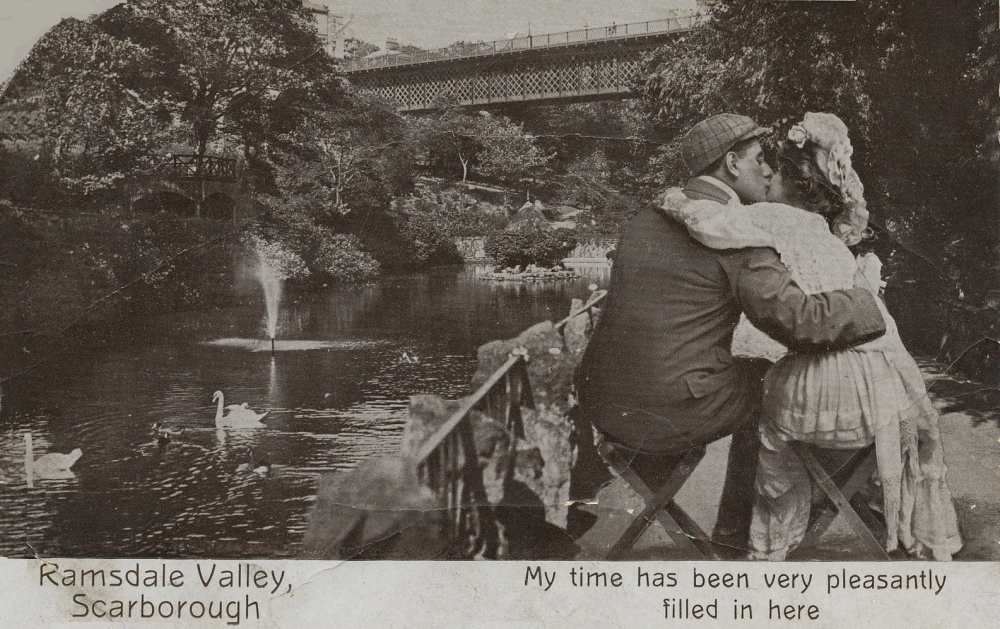 Ramsdale Valley, Scarborough (1910)
"My time has been very pleasantly filled in here"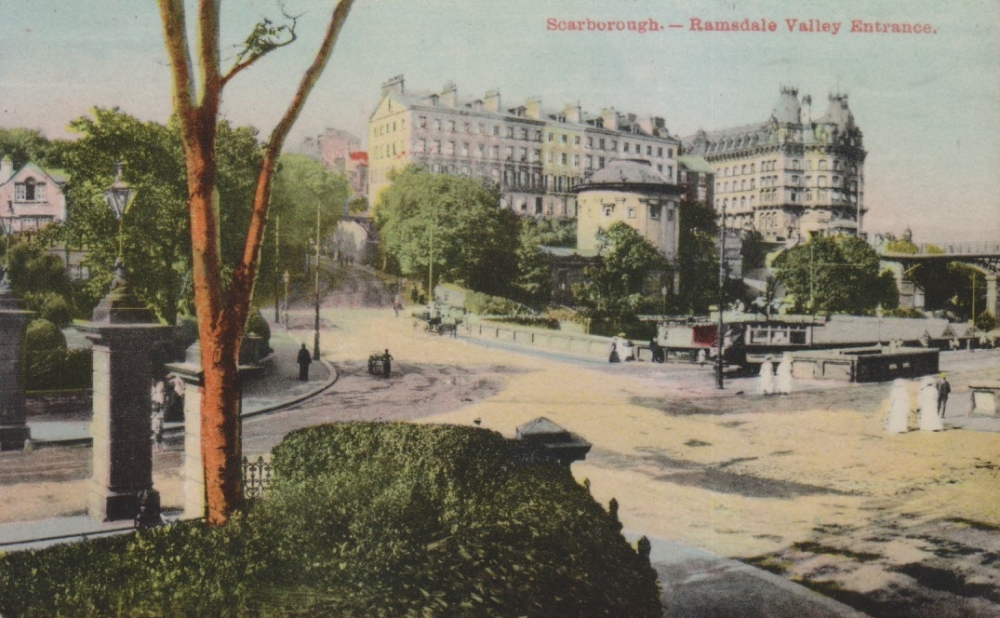 Scarborough - Ramsdale Valley Entrance (1915)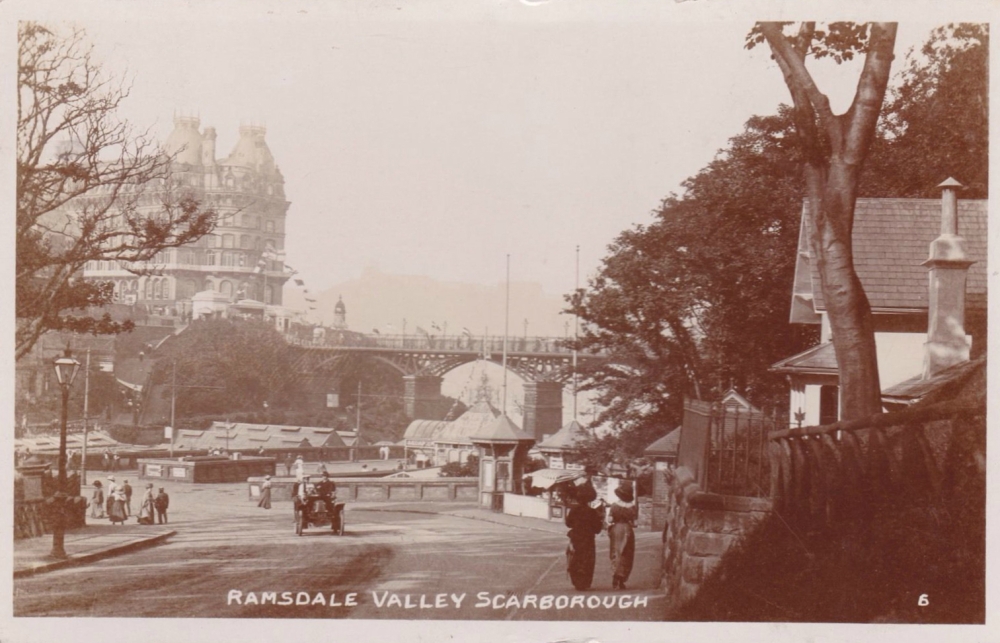 Ramsdale Valley Scarborough (1913)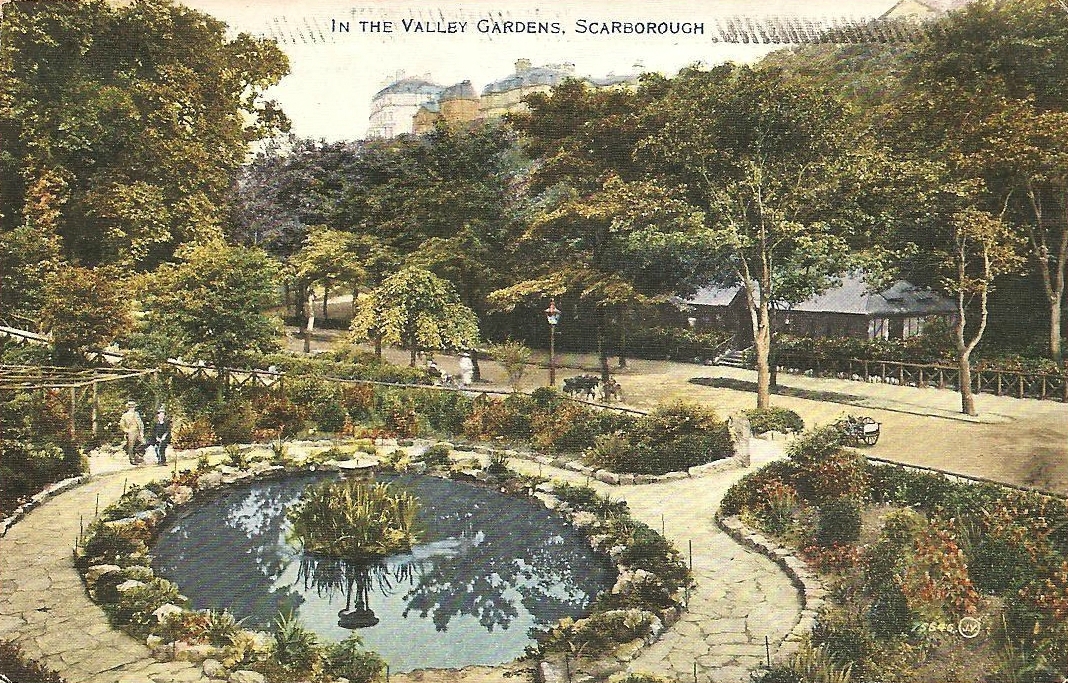 In the Valley Gardens, Scarborough (1918)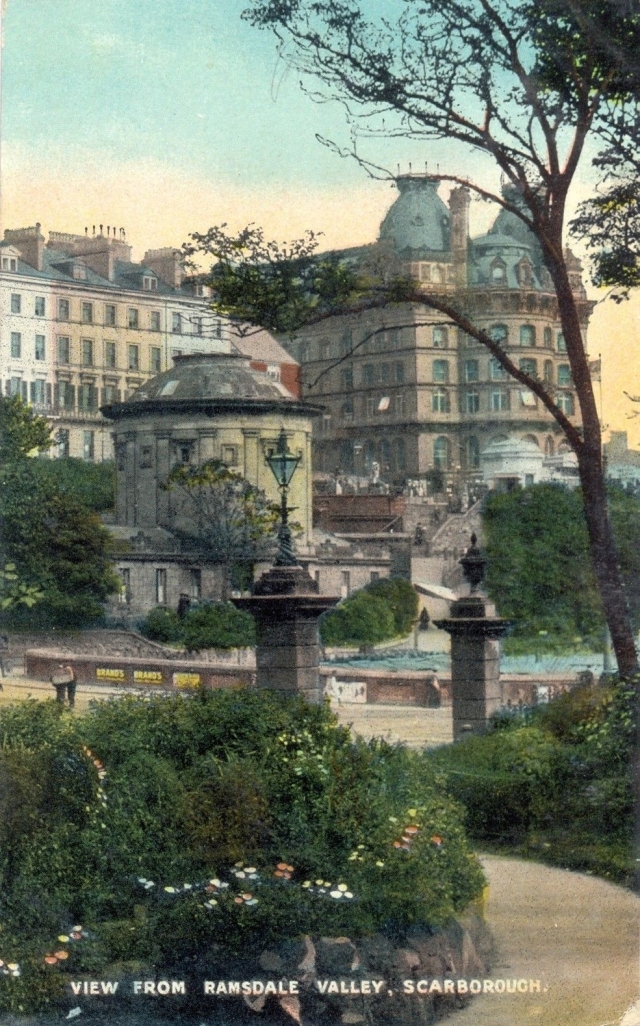 View from Ramsdale Valley, Scarborough (1910)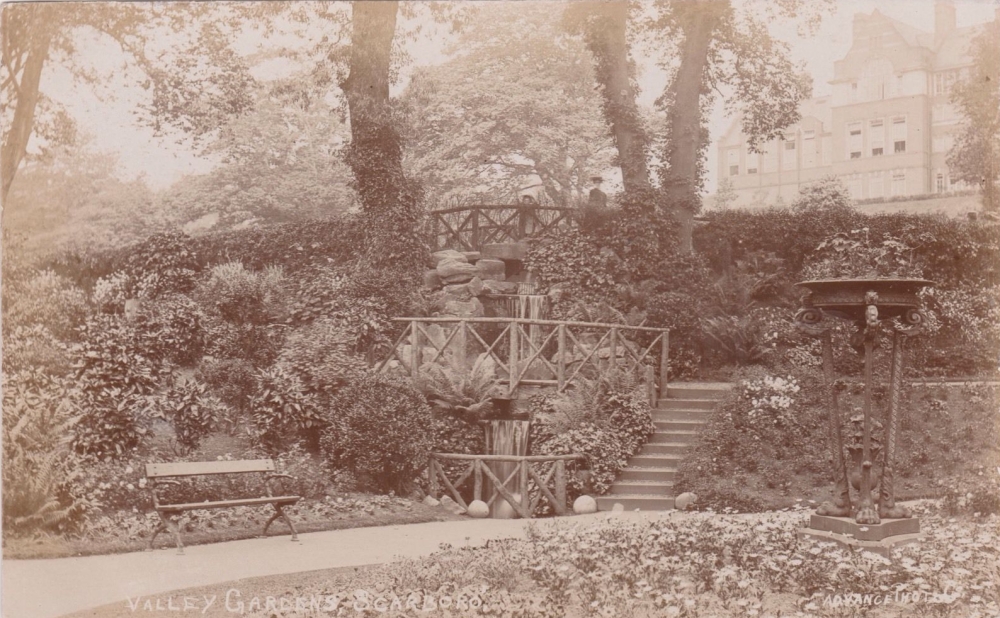 Valley Gardens, Scarboro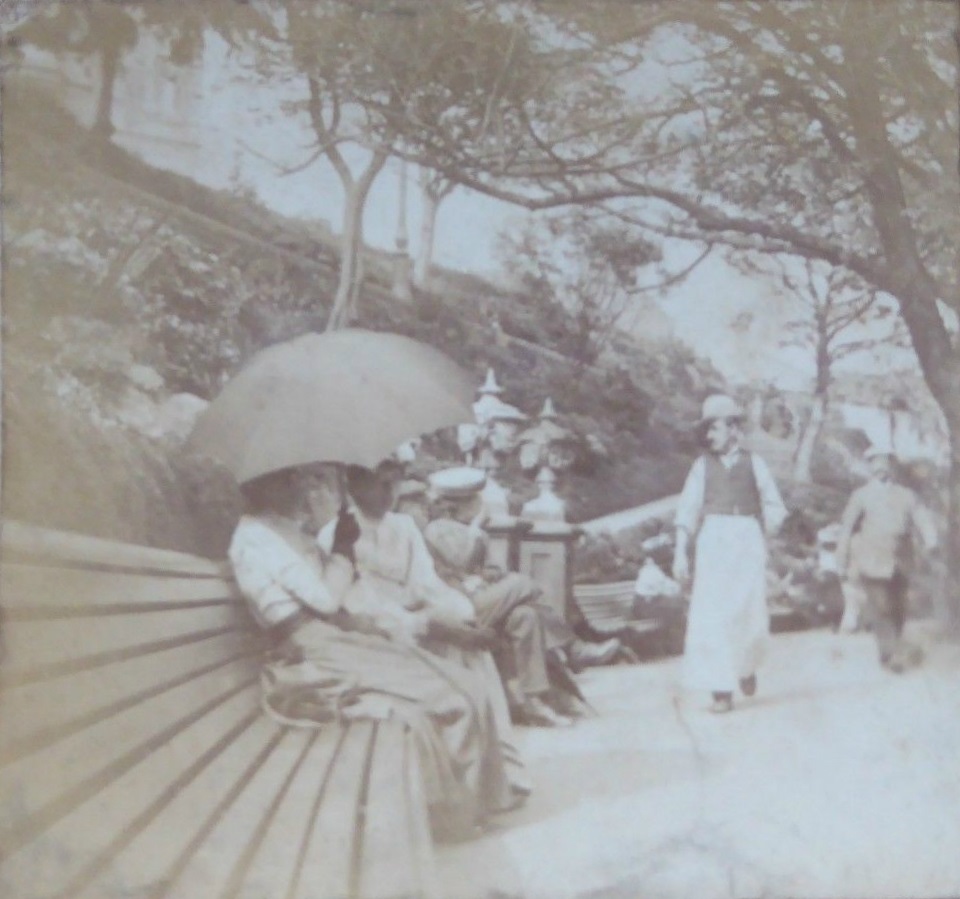 Scarboro, Ramsdale Valley (stereoscopic image)
Saturday, 26th August 1905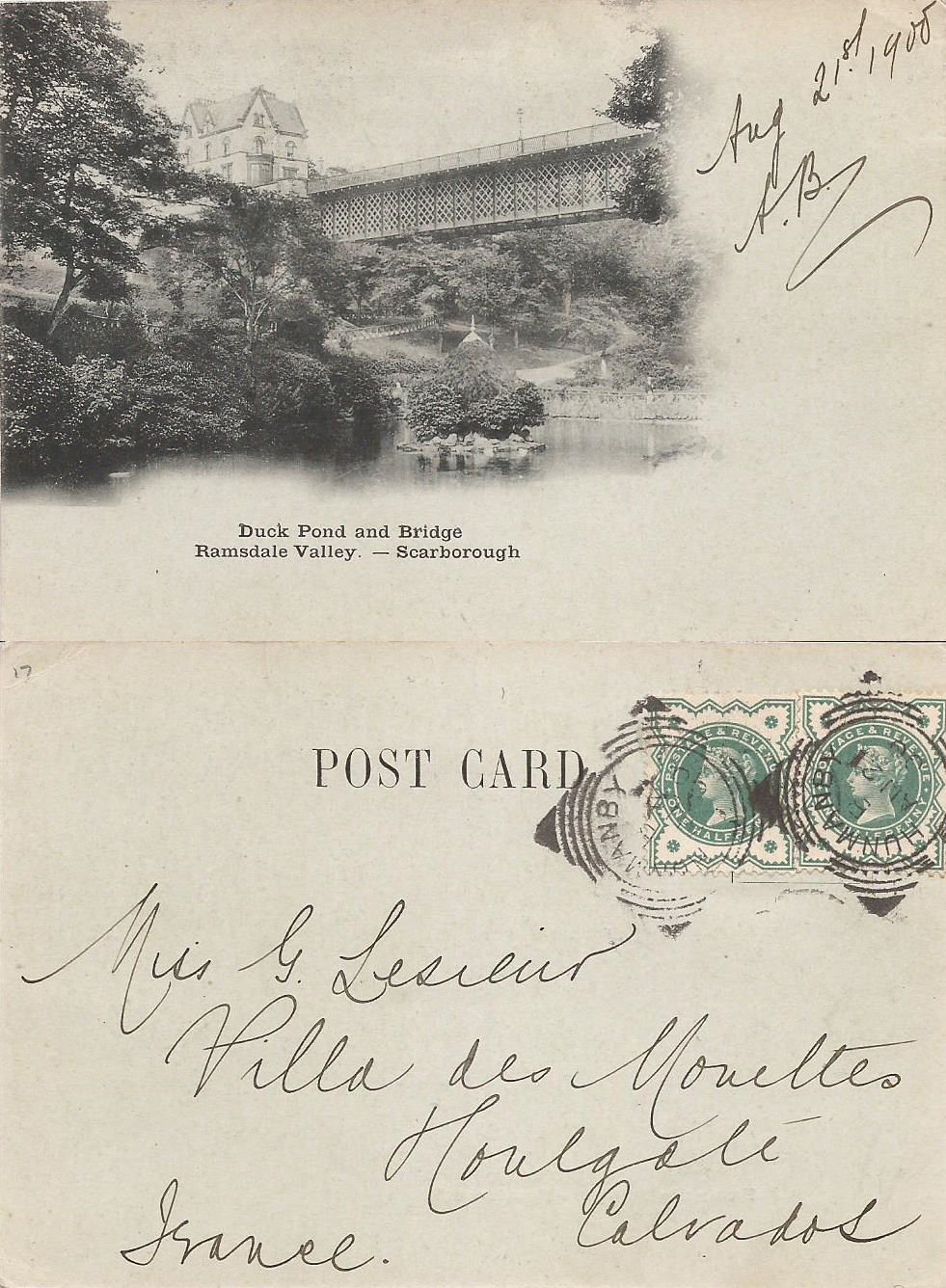 Duck Pond and Bridge
Ramsdale Valley - Scarborough
postally used from Hunmanby to Calvados on Tuesday, 21st August 1900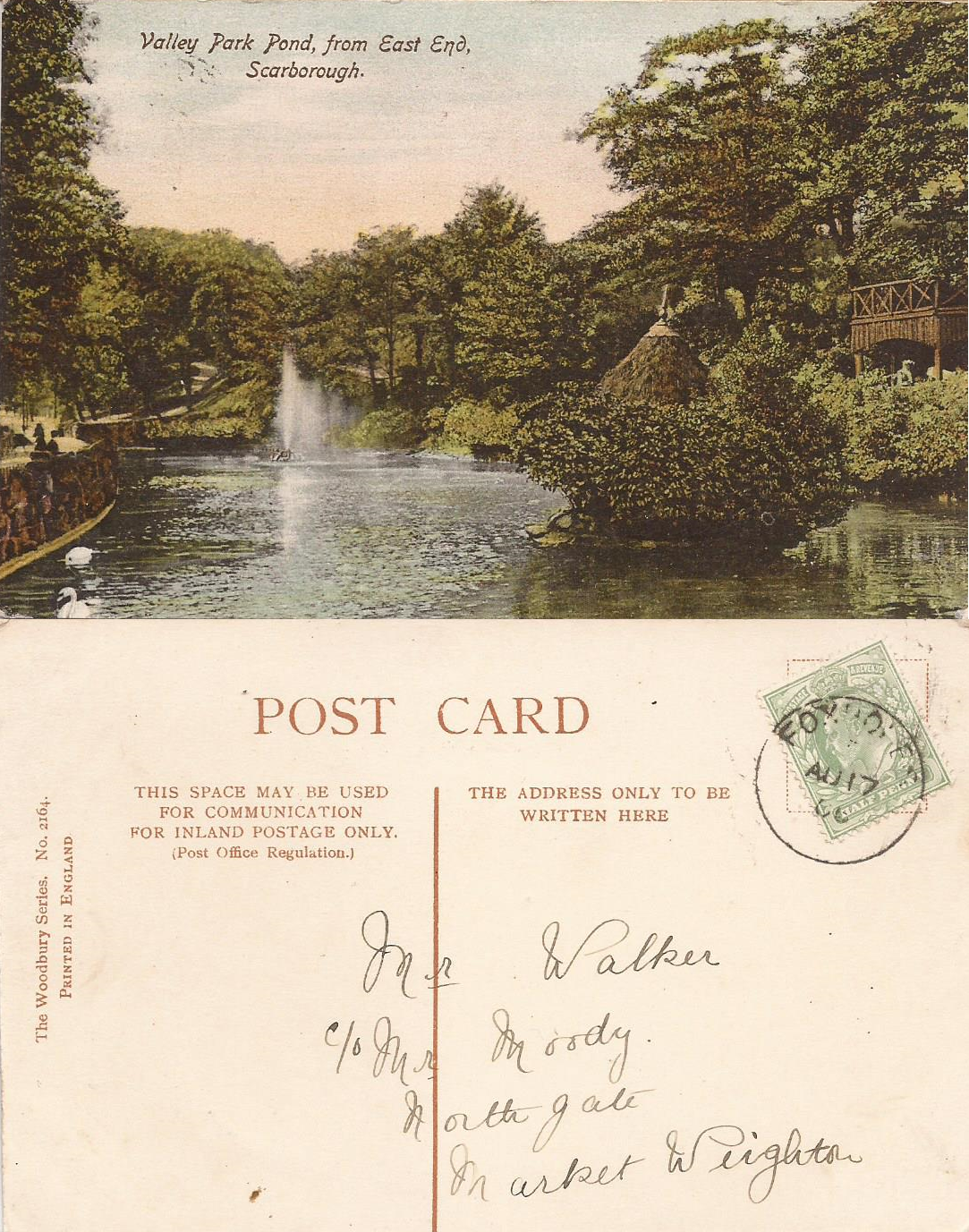 Valley Park Pond from East End, Scarborough
Foxholes, Friday, 17th August 1906 (?)
with possible 'Language of Stamps'
"Mark well the stamp and you will see, a message there to you from me!"
"I love you", or "I am true to you"
Valley Gardens and Bridge, Scarborough
Thursday, 16th August 1906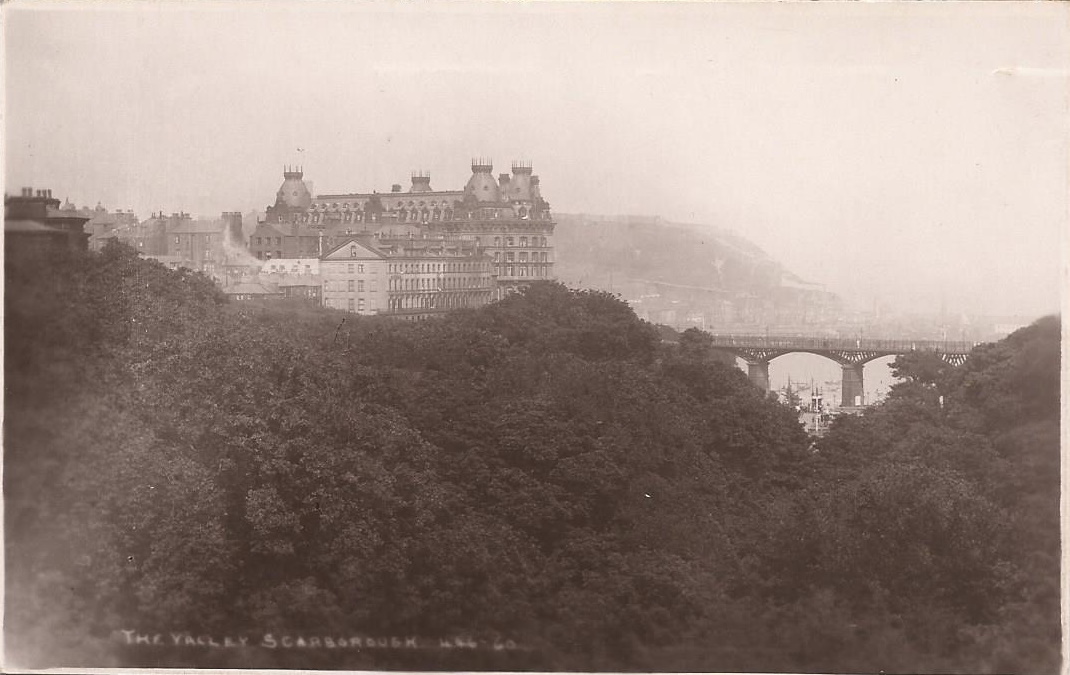 The Valley, Scarborough
19th April 1924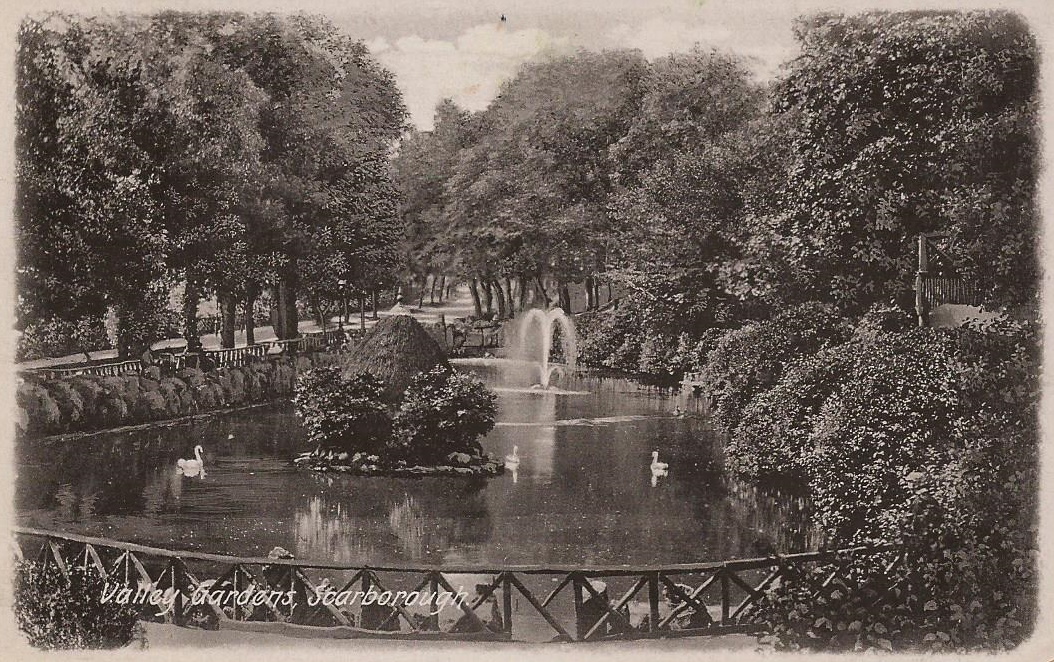 Valley Gardens, Scarborough
30th July 1918
Copyright © David Ramsdale 1997 - 2021
All rights reserved