A wind rose can quickly indicate the dominant wind directions and the direction of strongest wind speeds. This wind rose indicates frequencies of wind direction and wind speed at Molde (at the mouth of the Romsdalsfjord) over the period August 2011 to January 2017. See below to view monthly wind roses for Molde, which climatological data indicates the most and least favourable months in which to sail to and from Southwest Norway (Molde), the Shetland Isles and North Yorkshire.
"The Norse Settlement of North Scotland in its Geographical Setting" (1934-6) Andrew C. Odell Saga Book of the Viking Society Vol. XI at pages 256 to 259
… The first Norse immigrants to Scotland, as has been shown by the work of the Faroese philologist Jakobsen, were peasant immigrants of the eighth century from Agder and Rogaland. That they came from the Möre and Agder districts of S.W. Norway is shown by the distribution of "setr" and "land" place names in that part of Norway - which root is common in the north of Scotland.
---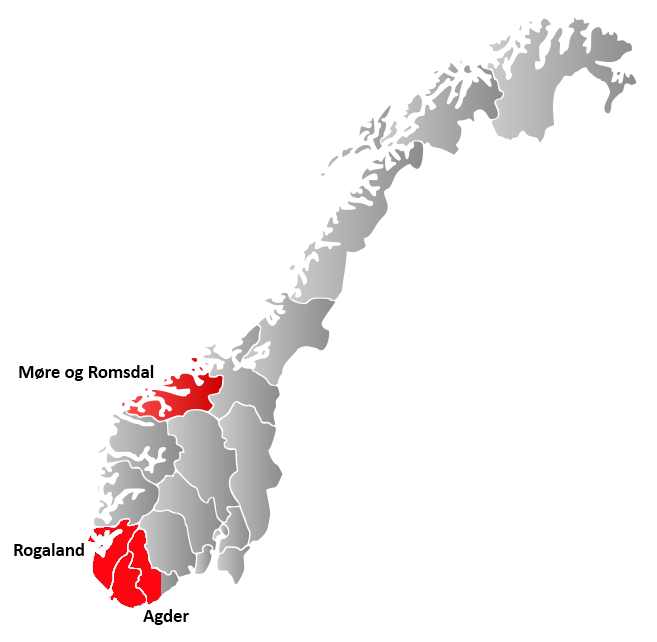 ---
These peasant immigrants were succeeded, at the period of consolidation in power of Harold the Fairhaired, by a set of adventurers. The Shetland Islands have been proved by Brøgger to have been later settled than most southerly regions by the Norse. The peasants married with the aborigines, it was not as so often imagined an extermination settlement, but one of peaceful penetration, and probably in time they brought the thrall women from Norway, who were also dark, and this perpetuated the dark strain in the Shetland Islands.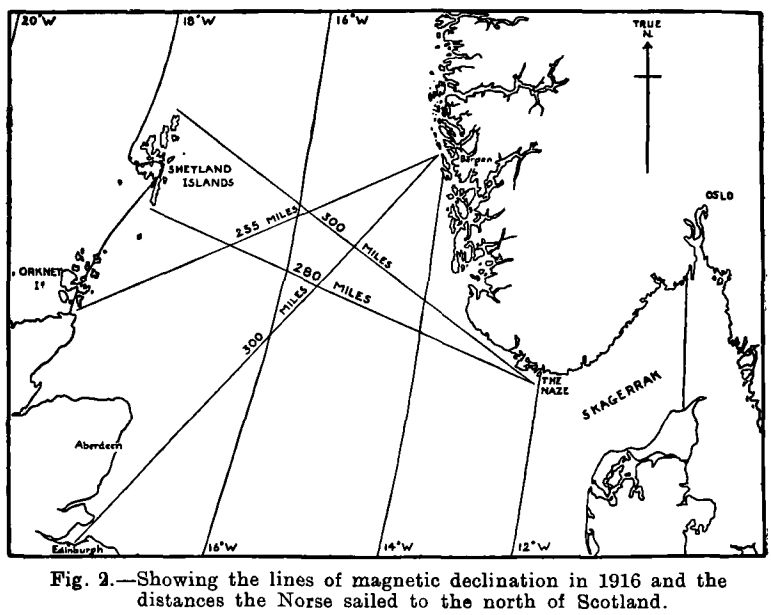 To reach the north of Scotland the Norse had nearly three hundred miles to sail across the North Sea, in the main against prevailing winds. The shortest distance is from Bergen to Caithness and this may account for the focusing of Norse penetration on that point of the seaboard, apart from its nodal character for passing down the west or eastern seaboards.
The third diagram shows the prevailing winds for May and September. The upper figure for May shows that, when the crops were sown, there is a marked north and easterly component for the average winds which, making the assumption that they have not appreciably changed since Norse times, would allow a more easy seasonal passage to the west.
The Norse landed on the seaboard, and if they were on a marauding expedition failed to have any deep influence on the settlement, but even if they came as settlers it is noteworthy that they failed to go far into the interior. A study of the place names of a parish as that of Farr in Sutherland shows that the Norse did not settle a great distance inland, and the clean cut line between the two types of names in Strath Naver shows that it was a peaceful occupation of the land. The settlement seems to have been discontinuous, based as it was on a command of the sea.
… To conclude, the Norse settlement of the north of Scotland took place when the Viking ships were able to navigate the northern waters, and the peoples who crossed left an impression on the place names of the region which still persists to the present …